Cold Front Brings Rain & Storms To Tennessee
Weather Images created by WeatherWX.com
Published July 1, 2021
By Meteorologist Mark Baldwin –
 A cold frontal passage will bring near 100% chances for rain and thunderstorms across the state today. Some of the thunderstorms could be strong, and some of that rainfall could be heavy. A flash flood watch is in effect for East Tennessee for today and tonight. Be careful for sudden, torrential downpours statewide. Clouds and rain will keep temperatures in the 80s.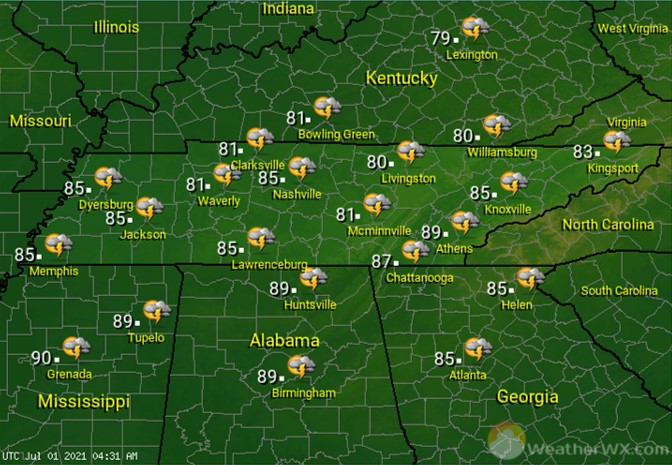 Showers and thunderstorms will continue to be likely into the night. Some of the rainfall could be heavy. Overnight low temperatures will be near 70 degrees statewide.   
There will be some showers and thundershowers lingering behind the cold front on Friday. Drier air will move in during the day from the northwest, giving folks across the northern West and Middle Tennessee, including Nashville, more sunshine than the rest of us may see. Cooler air from northerly breezes will keep temps around 80 degrees for afternoon highs.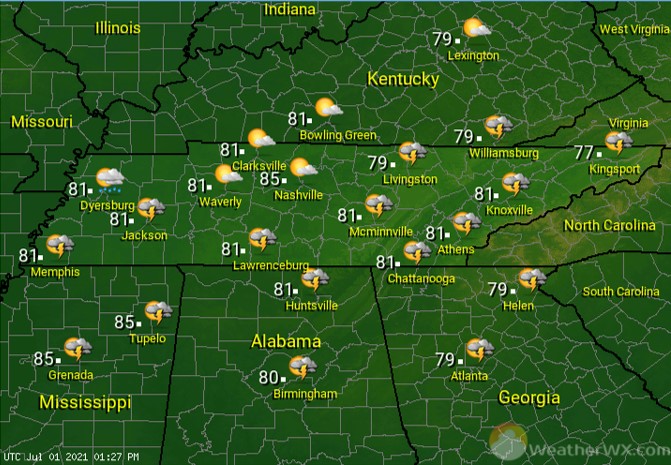 Visit Meteorologist Mark Baldwin on Twitter, Facebook and at meteorologistmark.com.