Cooler Temperatures But Less Rain – Wednesday & Thursday Weather Forecast
Weather Images created by WeatherWX.com
Published May 5, 2021
By Meteorologist Mark Baldwin –
After some morning showers and thunder showers move out, much of the state will enjoy a partly to mostly sunny spring day, with the most abundant sunshine expected across the west. Showers will hold on the longest in the eastern portions of Tennessee.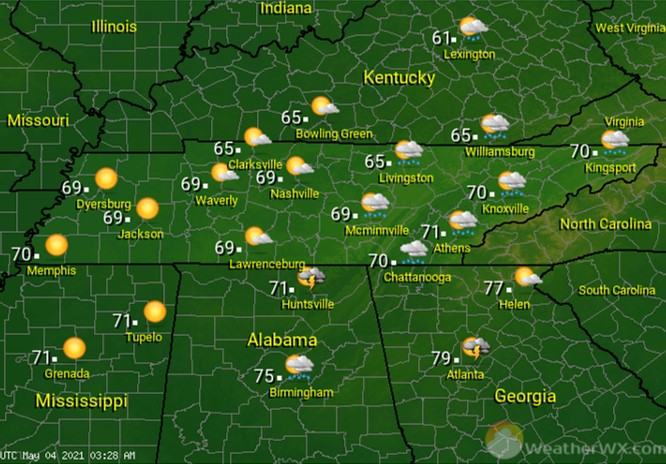 A weak disturbance may bring a few passing clouds for the Midstate that may drop a few sprinkles overnight, especially on the Cumberland Plateau. Overwise, much of the state can expect a mostly clear night and cool temperatures. 
Some showers and thunder showers are expected to move into the western end of the state later in the day, while the rest of the state sees partly to mostly sunny skies. Temps will be pleasant, climbing to near 70 during the afternoon for much of Tennessee.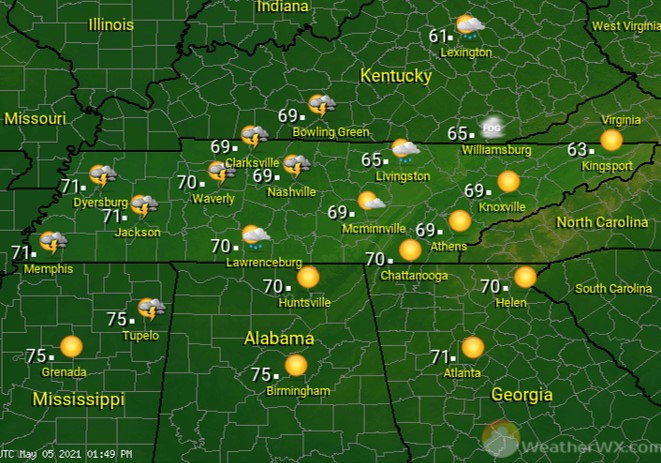 Visit Meteorologist Mark Baldwin on Twitter, Facebook and at meteorologistmark.com.