Dangerous Heat & Potential For Thunderstorms!
Weather Images created by WeatherWX.com
Published August 11, 2021
By Meteorologist Mark Baldwin –
It's a very hot and humid day across the Volunteer State and for some, it's a dangerously hot day. Heat advisories are in effect for West Tennessee and much of Middle Tennessee. Be safe in the heat! Only a very few of us across Middle and East Tennessee will get relief from the heat in the form of an afternoon or evening thunderstorm. Afternoon highs will be near 100 degrees across the western half of the state, while the eastern half climbs to near 90.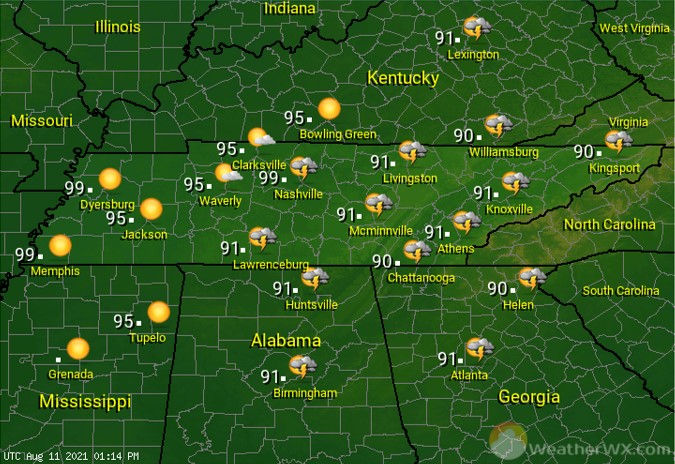 A couple of evening storms are possible near the mountains. Otherwise, look for mostly clear skies and very muggy overnight lows in the 70s. 
Thursday is nearly an exact repeat of Wednesday, with dangerously high heat indices for West and Middle Tennessee. Once again, only a few of us across the middle and eastern portions of the state will find heat relief from an afternoon storm.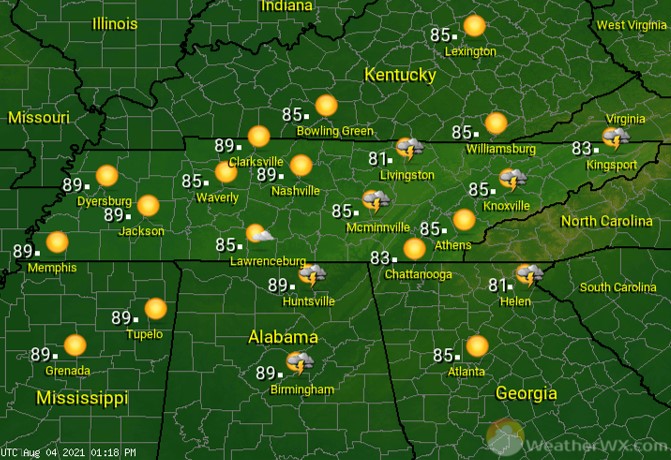 Visit Meteorologist Mark Baldwin on Twitter, Facebook and at meteorologistmark.com.