Hot, Humid & Hazy With More Rain On The Way!
Weather Images created by WeatherWX.com
Published July 21, 2021
By Meteorologist Mark Baldwin –
It's a hazy, hot, and humid summer day in Tennessee! It will be a dry day for most, with only a slight chance for an afternoon shower or storm near the southern border of our state. Afternoon highs will climb into the mid to upper 80s, with our larger cities flirting with the 90-degree mark. Please note that there is an air quality alert in effect today for areas around Nashville, Clarksville, and Bristol. Those of you with breathing issues should limit outdoor activities today.
A warm and humid Wednesday night is in store for the region. Overnight lows will fall into the mid to upper 60s. 
It's another hot and humid day, but with a better chance for some afternoon thunderstorms for some. The best rain chance is across areas of West Tennessee, where a 50% chance of an afternoon shower or storm can be found. Areas of southern Middle and East Tennessee will see about a 30% chance of the same. The rest of us should be partly to mostly sunny. All of us will see high temps in the upper 80s, with our cities touching the 90-degree mark.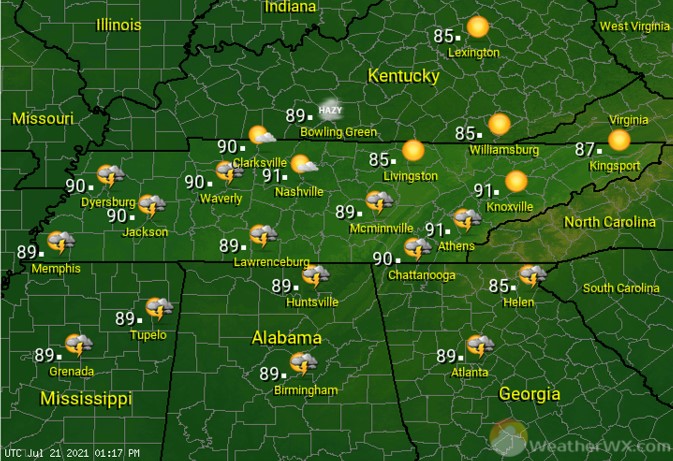 Visit Meteorologist Mark Baldwin on Twitter, Facebook and at meteorologistmark.com.