Hot & Humid With Slight Chances Of Rain!
Weather Images created by WeatherWX.com
Published July 14, 2021
By Meteorologist Mark Baldwin –
It's a warm and humid day across Tennessee. The warmth and humidity will lead to a few thunderstorms in the afternoon and early evening. That rain chance varies from 20% in the west to 30% in the east. Under partly to mostly sunny skies, afternoon highs will warm into the mid to upper 80s.
After a few evening showers and thundershowers, skies should be clear to partly cloudy by midnight. Warm and humid overnight lows should fall to around 70 degrees statewide. 
Thursday is looking like a typical middle-of-July Tennessee day! Look for partly to mostly sunny skies and a chance for an afternoon or evening shower or thunderstorm. Most of us should stay dry, but all of us will be humid. Afternoon high should climb into the mid to upper 80s, with many of our cities touching 90.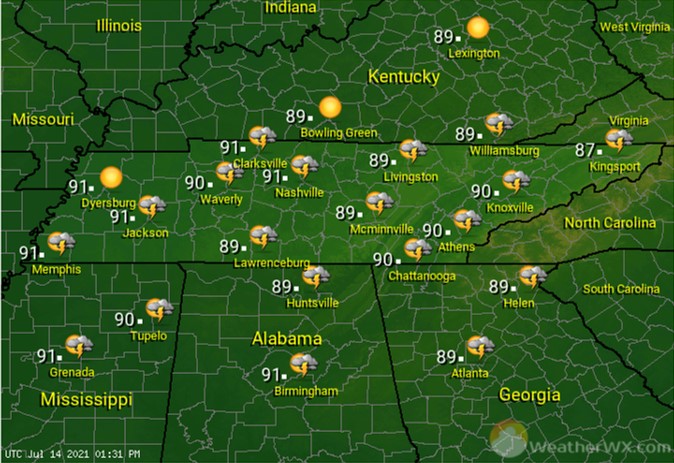 Visit Meteorologist Mark Baldwin on Twitter, Facebook and at meteorologistmark.com.