Hurricane Ida Arrives In Tennessee!
Weather Images created by WeatherWX.com
Published August 30, 2021
By Meteorologist Mark Baldwin –
The remnants of Hurricane Ida will begin arriving today, bringing an increase in rain chances. That rainfall will begin moving up from the south by this morning for southern West and Middle Tennessee. Elsewhere, a chance of showers and thunderstorms can be expected, especially during the afternoon and evening. Cloud cover will keep high temps in the 80s for much of the state.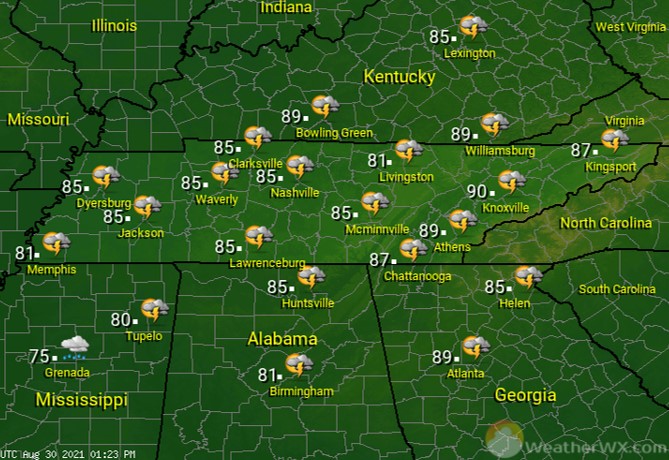 Rainfall coverage and intensity increases overnight, as the remnants of "Ida " move in. Flood watches are in effect for much of the state, as some of that rainfall will be heavy. There is also a risk for an isolated tornado. That tornado threat is greatest for areas south of Interstate 40. Southerly winds will be increasing overnight, as well. Wind gusts to 20-30 mph are possible.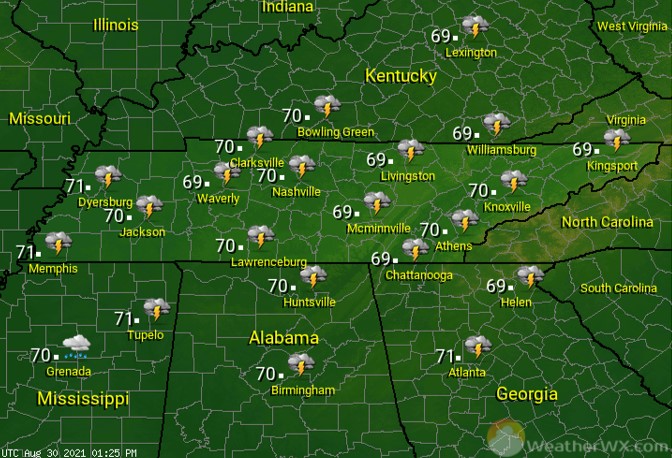 "Ida" will bring rainy and breezy conditions to much of the state on Tuesday. The greatest risk for an isolated tornado will be across East Tennessee. Flood watches will remain in effect through the day, to account for the heavier downpours of rain that are likely. Rain chances will slowly decrease from west to east through the day.    
Visit Meteorologist Mark Baldwin on Twitter, Facebook and at meteorologistmark.com.