Mostly Dry Today But More Rain On The Way!
Weather Images created by WeatherWX.com
Published July 15, 2021
By Meteorologist Mark Baldwin –
We can expect mostly sunny skies across the Volunteer State today, with afternoon high temps in the mid to upper 80s. Many of our larger cities will likely reach 90 degrees. Although humidity levels will be a bit lower today than yesterday, there will still be enough humidity to set off a couple of storms for the afternoon and early evening, but most of us stay dry.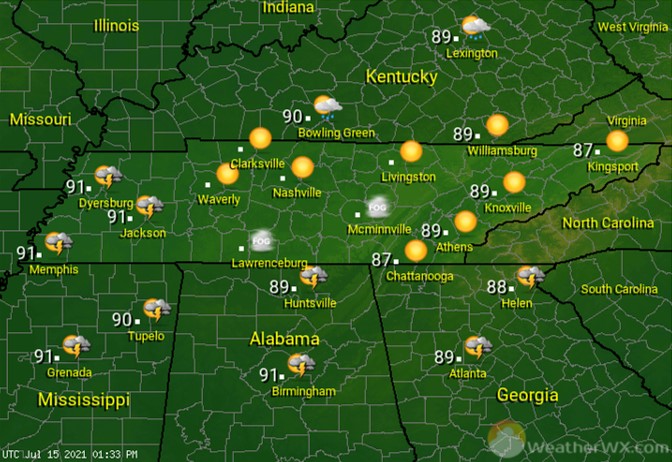 Skies should become mostly clear overnight, with low temps around 70 degrees for most. Higher humidity could lead to some patchy fog development, especially around waterways.  
Humidity increases on Friday. With temperatures in the mid to upper 80s, we will likely see the heat and humidity lead to scattered showers and thunderstorms by the afternoon. Some of those storms could produce heavy rainfall, deadly lightning, and gusty winds.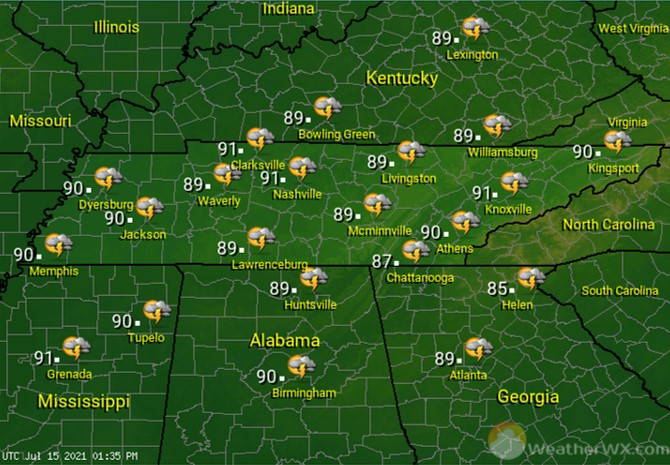 Visit Meteorologist Mark Baldwin on Twitter, Facebook and at meteorologistmark.com.