Partly Cloudy With 50% Chance Of Rain Statewide
Weather Images created by WeatherWX.com
Published July 8, 2021
By Meteorologist Mark Baldwin –
We'll see both clouds and sun in our Tennessee skies for today, with those clouds developing into showers and thunderstorms for some of us by this afternoon and evening. That rain chance is at about 50% statewide. Expect a warm and humid day, with highs in the mid to upper 80s, except on the plateau and upper East Tennessee, where more cloud cover should keep high temperatures in the lower 80s.
Showers and thunderstorms may linger into the evening hours, with much of that activity dissipating by midnight. Otherwise, look for partly to mostly cloudy skies and humid conditions overnight, with lows near 70 for most.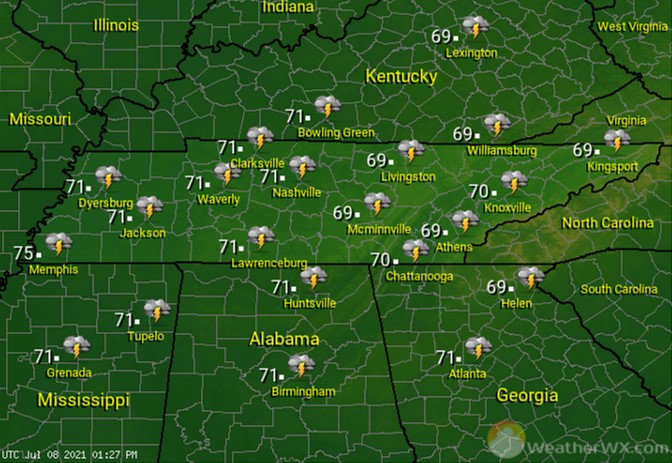 The pattern changes little from Thursday to Friday, so we can expect more of the same. It will be a warm and humid day, with a 50% chance for showers and thunderstorms, especially in the afternoon and evening. Look for high temperatures in the mid to upper 80s statewide.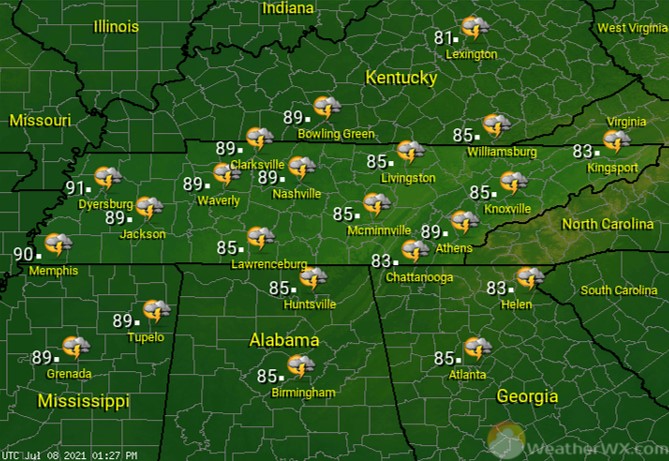 Visit Meteorologist Mark Baldwin on Twitter, Facebook and at meteorologistmark.com.