Picture Perfect Weather In Tennessee – Weekend Outlook Forecast
Weather Images created by WeatherWX.com
Published April 30, 2021
By Meteorologist Mark Baldwin –
The final day of April is picture perfect! Abundant sunshine will be found in our Tennessee skies from one end of the state to the other. High temperatures will be pleasant, with highs near 80 in the west and near 70 in the east.
A pleasant evening is on tap for the Volunteer state. Get out and look at that beautiful Waning Gibbous moon! Overnight lows will range from the mid 50s in the west to near 40 in the east.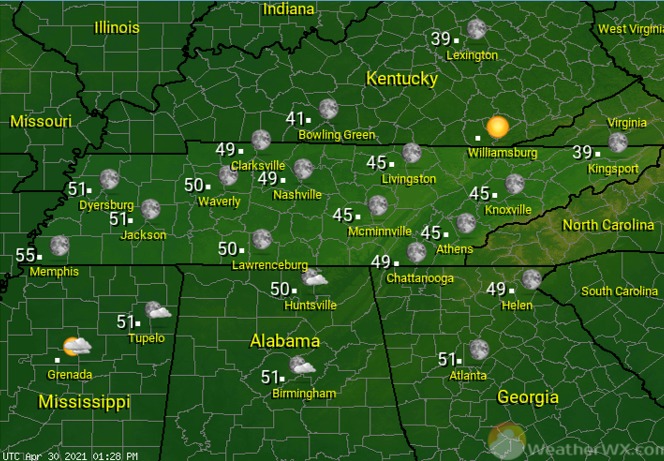 The first day of May is anything but a distress call! Look for plenty of sunshine from Memphis to Bristol. That May sunshine will send high temps to near 80 for much of West and Middle Tennessee, and in the low to mid 70s for the plateau and East Tennessee. 
And then for Sunday….A new storm system will begin moving in from the west. Showers and thunderstorms will develop from west to east during the day. The better chance for rain and storms should hold off until dark for much of the state.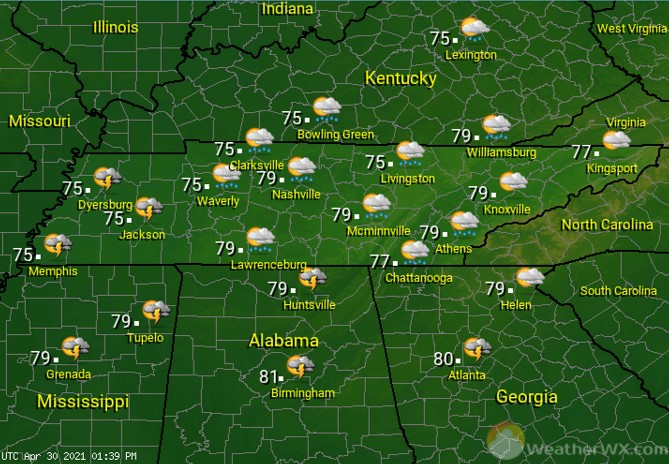 Visit Meteorologist Mark Baldwin on Twitter, Facebook and at meteorologistmark.com.