Possibility Of Strong Storms This Evening In Tennessee
Weather Images created by WeatherWX.com
Published April 29, 2021
By Meteorologist Mark Baldwin –
Showers and thunderstorms will develop across the state today. The Storm Prediction Center has placed much of Tennessee in the marginal risk for severe storms today, due to the possibility for some of the storms to produce strong winds and small hail. The marginal risk is the lowest of the five severe weather risk categories. Look for breezy south winds throughout the day.
Showers and thunderstorms will be likely across the state. A few of the storms could be strong. It will be a mild night, with overnight lows in the 50s statewide. 
Skies will quickly clear from west to east, leading to a nice Friday for much of the state. Temps will be nice for this time of year, with highs generally in the 70s, with a northerly breeze. Lingering clouds and showers could keep temps in the 60s for those of you in the northeast corner of the state.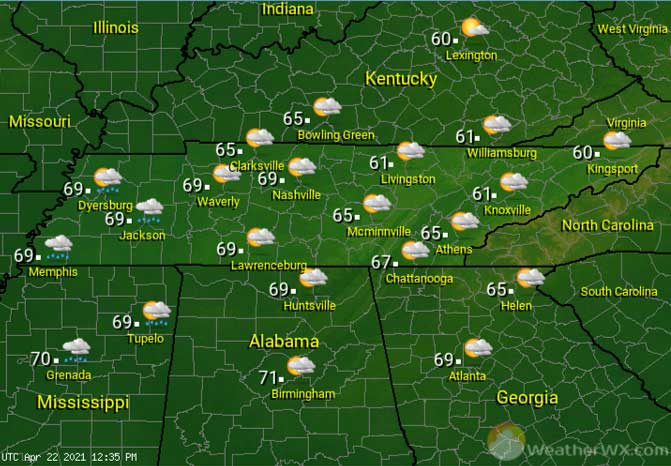 Visit Meteorologist Mark Baldwin on Twitter, Facebook and at meteorologistmark.com.