Temps Near 100 Continue Through Rest Of The Workweek!
Weather Images created by WeatherWX.com
Published July 29, 2021
By Meteorologist Mark Baldwin –
Mostly clear skies will help create the hottest day so far this summer across the state. Afternoon high temps will climb into the mid to upper 90s for much of the region, with the cities reaching for the 100-degree mark. Only the plateau and upper East Tennessee will see highs in the lower 90s. Be safe in the heat today.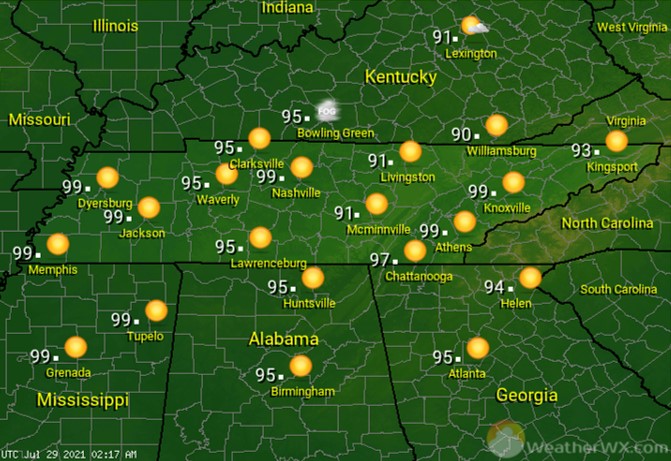 Skies will be mostly clear for many of us, with warm overnight lows only falling into the mid to upper 70s for many. The plateau and upper East Tennessee should see cooler low temps near 70.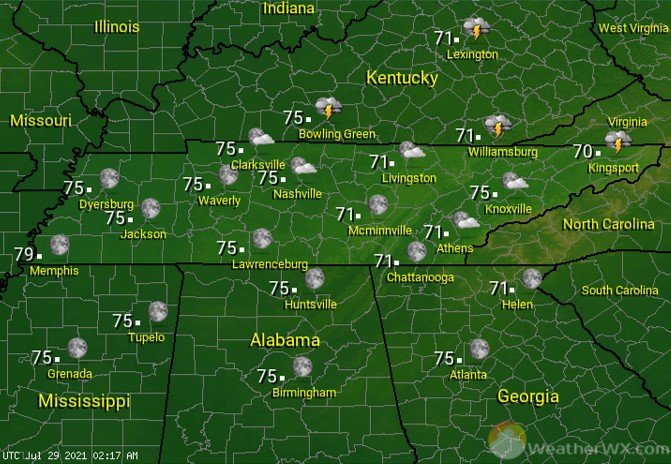 Partly cloudy skies will lead to about a 30% chance for a heat-of-the-day shower or thunderstorm across the middle and eastern areas of the state, while West Tennessee stays mostly sunny. The sunshine in the west will lead to highs near 100 once again, while more clouds keep Middle and East Tennessee in the low to mid 90s.   
Visit Meteorologist Mark Baldwin on Twitter, Facebook and at meteorologistmark.com.