Thunderstorms & Heat Advisories For TN!
Weather Images created by WeatherWX.com
Published August 10, 2021
By Meteorologist Mark Baldwin –
 Scattered thunderstorms will once again develop today across the state, especially this afternoon. Storm coverage will be least across West Tennessee and that will allow for hotter temperatures there. Heat advisories are in effect for that portion of the state again today, as afternoon highs climb into the mid 90s. Elsewhere, more clouds and scattered storms will keep afternoon highs near 90 degrees. Statewide, high humidity levels will make temps feel much hotter than they are.
A few storms linger into the early evening for the middle and eastern regions of the state. Otherwise, look for clear to partly cloudy skies tonight. Muggy overnight lows will only fall to near 80 across the westernmost region of the state, while lows generally fall into the low to mid 70s elsewhere.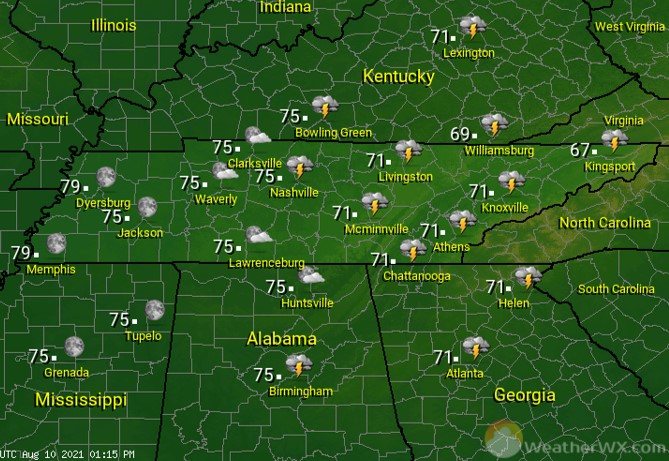 Afternoon storm chances continue for Middle and East Tennessee again for Wednesday, though coverage should be less than that of Tuesday's storms. West Tennessee will likely stay dry, which will allow afternoon temps to combine with high humidity to form another dangerously hot day there. Heat advisories will be needed once again and those advisories may even extend into Middle Tennessee, as well.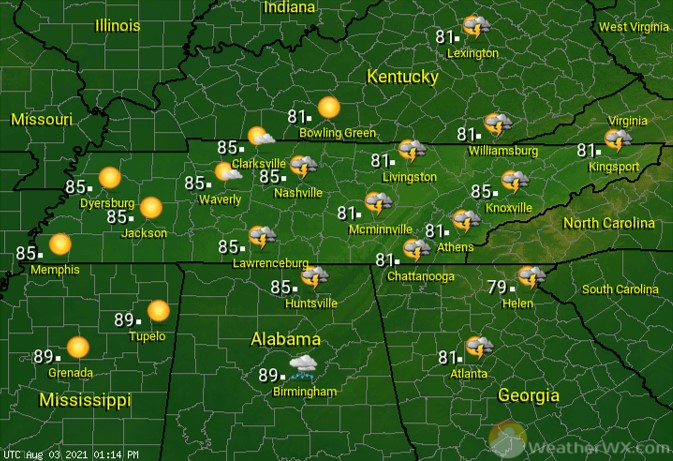 Visit Meteorologist Mark Baldwin on Twitter, Facebook and at meteorologistmark.com.