Ford Wines & Dines Lawmakers For Access To Your Tax Dollars
Photo Credit: Shutterstock
To celebrate the sweetheart $884 million deal Ford Motor Company is getting from Tennessee for the construction of the Ford electric truck plant in Memphis, members of the Tennessee General Assembly were invited to attend an event on Monday night, October 18th at The Hermitage Hotel in Nashville.
The invitation to the legislators, that was sent from the Greater Memphis Chamber of Commerce stated, "Please join us as we celebrate Ford's historic investment in West Tennessee."
The invitation goes on to state:
"Bringing almost 6,000 new jobs and a $5.6 billion investment to West Tennessee's Memphis Megasite, Ford's commitment marks the single largest economic development project in Tennessee's history and puts Greater Memphis and West Tennessee at the forefront of electric vehicle innovation.
A number of our key business and industry leaders from West Tennessee will be in Nashville for this celebration to show the excitement we all have around this project.
*This will be a widely attended event."
***Click HERE to support Conservative Journalism in Tennessee. We can't cover stories like this without your support!***
While many legislators are celebrating Ford's "historic investment" this week during Governor Lee's Special Session to address funding and the buildout of the Memphis Regional megasite, many Conservative Tennesseans are not enthusiastic about this blatant use of taxpayer dollars to fund a corporate welfare package for a company that has opposed election integrity efforts, is operated by labor unions, supports an LGBTQ agenda and pushes the idea of Climate Change.
In response to a graphic The Tennessee Conservative posted on social media, Conservative Tennesseans let their opinions be known.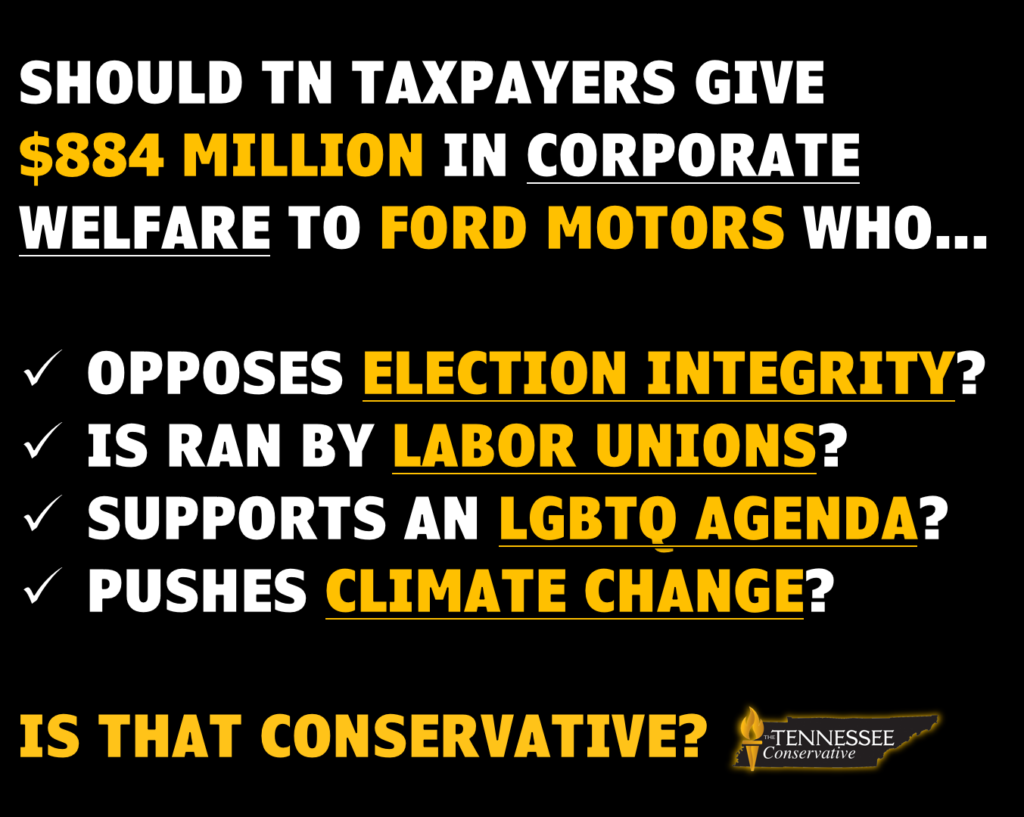 Karen Roe said, "I wish the people had a choice on what companies our Governor (is paid) to bring to TN. He has forgotten who actually elected him. The people's priorities are not his."
Ruben Maxwell stated, "Sad that our governor is ok with calling a special session for this boondoggle but not to protect our rights as citizens!"
Ray Smith warns that Ford will "use their money and political influence to try and tell us what is best for Tennesseans."
Shawn Adkins asks, "Why do states continue to give tax breaks to these corporations? I know we get them here and they employ workers who then pay taxes but come on. I've paid property taxes here for almost 40 years, 10 of which have been on two properties. Can I get a tax break?"
Jim Decker warns to keep corporations like Ford out of Tennessee stating, "Look what unions have done to Detroit."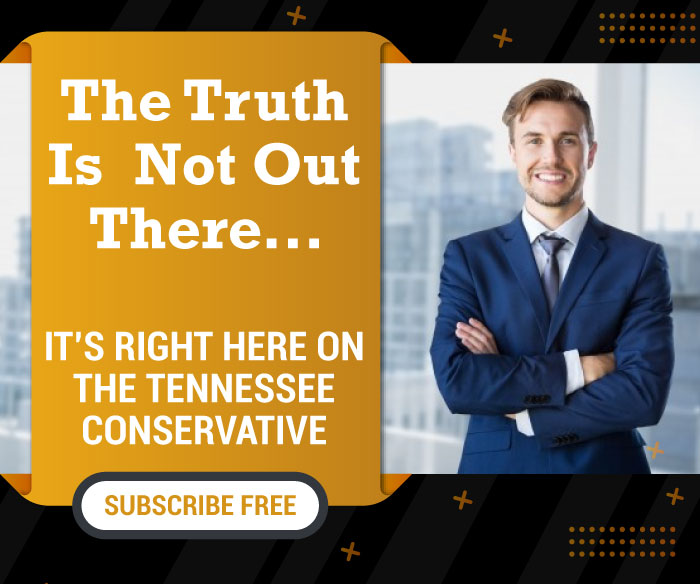 Republican State Representative Robin Smith from Hamilton County sent letters over the weekend asking about the project's cost and the potential organization by the United Auto Workers.
"It really has more to do with how employees will have their rights observed when it comes to unionization," Smith said, noting it is important for workers to be able to vote by ballot rather than by a card check.
On the first day of Lee's Special Session, the chairman of the House Democratic Caucus, Vincent Dixie (D-Memphis) voiced concerns that the project may cost Tennesseans even more than $884 Million.
"You're always concerned with the bait and switch," Dixie said.
House Speaker Cameron Sexton acknowledged some lawmakers will criticize the incentive package, but he noted West Tennessee needs the project badly.
The House Speaker also downplayed the possibility that the plant could become a union shop, pointing out Volkswagen workers turned down the opportunity to organize at the Chattanooga plant.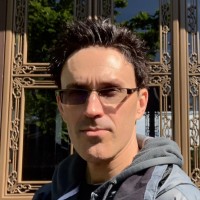 About the Author: Jason Vaughn, Media Coordinator for The Tennessee Conservative  ~ Jason previously worked for a legacy publishing company based in Crossville, TN in a variety of roles through his career.  Most recently, he served as Deputy Directory for their flagship publication. Prior, he was a freelance journalist writing articles that appeared in the Herald Citizen, the Crossville Chronicle and The Oracle among others.  He graduated from Tennessee Technological University with a Bachelor's in English-Journalism, with minors in Broadcast Journalism and History.  Contact Jason at news@TennesseeConservativeNews.com