National Gun Policy Group Sues Tennessee Over New Handgun Law
Photo Credit: Teknorat / CC
Published May 18, 2021
By Jon Styf [The Center Square contributor] –
The nonprofit Firearms Policy Coalition is suing the state, claiming Tennessee's new law requiring an adult to be 21 years old to carry a handgun without a permit violates the Second Amendment.

The lawsuit was filed on behalf of three named individuals – Caleb Bassett, Blake Beeler and Logan Ogle – who are Tennessee residents ages 18-20. FPC filed the lawsuit in the United States District Court for the Eastern District of Tennessee, within the Sixth Circuit Court of Appeals. The group has filed similar lawsuits in California and Pennsylvania.
"Tennessee's statutory scheme unconstitutionally denies a large number of adults their fundamental, individual right to bear arms outside the home," said Adam Kraut, FPC's senior director of legal operations. "The text of the Second Amendment makes clear that the right to keep and bear arms 'shall not be infringed,' and nothing in America's history and tradition supports Tennessee's laws banning carry by adults under age 21. This lawsuit seeks to vindicate the rights of our clients and restore individual liberty in Tennessee and beyond."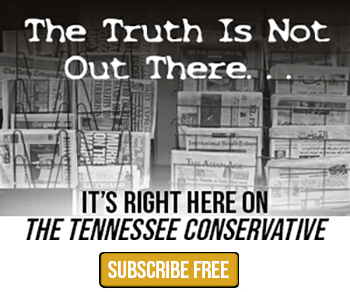 Gov. Bill Lee signed Senate Bill 765 into law last month. It allows for those age 21 and older to carry a handgun without a permit in Tennessee. The law, which goes into effect July 1, excludes adults ages 18-20.
The law allows a gun owner to carry an open or concealed handgun without a permit if a gun owner meets the qualifications for an enhanced handgun carry permit, lawfully possesses the handgun and is in a place the gun owners had a right to be.
*** Click Here to Support Conservative Journalism in Tennessee. We can't bring News Stories such as this without your support!***
Proponents of the bill said most Tennesseans still would seek an open carry permit to take advantage of open carry reciprocity when crossing state lines.
The lawsuit also claims the-under-21-open-carry restrictions violate the 14th Amendment, which says states cannot infringe on the rights of its citizens nor can it "deprive any person of life, liberty, or property, without due process of law; nor deny to any person within its jurisdiction the equal protection of the laws."
"At 18 years of age, law-abiding citizens in this country are considered adults for almost all purposes and certainly for the purposes of the exercise of fundamental constitutional rights," the lawsuit reads. "Yet the State bans such persons from carrying a loaded handgun in public for self-defense or any other lawful purpose under a criminal statutory scheme that Defendants actively administer, implement, and enforce against all such individuals."
Tennessee Attorney General Herbert Slatery's office said it cannot comment on pending litigation.