Commission Appoints Joan Carter As Interim State Rep
Photo: Joan Carter sworn in at Hamilton County Commission meeting
Photo Credit: HamiltonCountyTN / YouTube
Published June 10, 2021
The Tennessee Conservative Staff –
Hamilton County, TN – The Hamilton County Commission appointed Joan Carter yesterday to serve as interim replacement for State Representative Mike Carter who passed away on May 15th.

No additional nominations were made for the position and the commission voted unanimously to approve the appointment.
District 7 Commissioner Sabrina Smedley stated that appointing Joan Carter, Mike Carter's widow, as interim State rep is "such a great opportunity to honor (Mike Carter's) service, appointing Joan Carter today as interim."
*** Click Here to Support Conservative Journalism in Tennessee. We can't can't cover stories about local and state government in Tennessee without your support!***
Smedley stated that Joan Carter wants to hold the interim position to honor her late husband and that she will not seek to hold the position past the interim period.
"This will give her an opportunity to finish some of the things Mike started. And she will be able to go and support different organizations and groups that Mike was working with," Smedley said.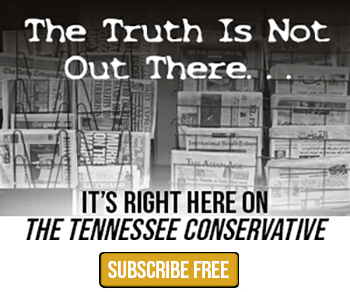 Joan Carter stated, "I consider this a true tribute to Mike's legacy."
"When you're together as long as Mike and were, you really grow together. For as long as I can remember, he valued me as his sounding board. He ran things by me, he would say 'Joanie, you're a good listener, you give sound advice and most importantly you keep a confidence.' When he returned to work after his chemo began, he wanted me with him for all those above-mentioned reasons," Carter said.
Carter concluded by saying, "I want to assure the people of District 9 'I am you.' I am with you and I will do my best during this interim position."
County Clerk Bill Knowles swore in Carter following her speech.
District 6 Commissioner David Sharpe said, "Too often, the spouses and families of elected leaders in our communities don't get the recognition that they deserve. But truly, it is a work that affects the entire family. And I know first-hand..that the conversations around decisions that are made between a husband and his wife and family are critical in the decision-making process. And I know in my heart, that there is no one that knows the heart of Representative (Mike) Carter as Representative (Joan) Carter."
Joan Carter will serve as the interim representative for the 29th legislative district until a special election is called to fill the vacancy for the remainder of Mike Carter's original term, which will end on November 8th, 2022.