Former Disney Actress Joined Williamson County Anti-Mask Protest
Photo: Leigh-Allyn Baker, former Disney actress
Photo Credit: Leigh-Allyn Baker – DSC_0029 / CC & GoToVan / CC
Published August 17, 2021
The Tennessee Conservative Staff –
The controversy surrounding Tennessee's mask mandates in schools gained national headlines after ex-Disney actress, Leigh-Allyn Baker, joined Williamson County parents in challenging the school district's new mask requirement.

During the recent Williamson County school board meeting, Baker, who played the mom in Good Luck Charlie, spoke about her two children who are exempt from receiving the Covid vaccine.
Baker explained that even with this exemption, she would "never put them in a mask because their brain needs oxygen to grow, which the neurologists could confirm."
"The real part of the clown show is that you all think that you actually have the authority to mandate this," she said to the board. "There are these books that I have, and I have them as a gift for you. The Constitution and the Declaration of Independence, the Bill of Rights, and the Federalist Papers, and also the Bible and these guarantee my freedom and yours and our children's to breathe oxygen."
The board voted 7-3 to require masks at the elementary school level. 
***Click HERE to support Conservative Journalism in Tennessee. We can't cover topics like this without your support!***
There are videos that have now gone viral from the night of the meeting, showing a confrontation outside the building. The Williamson County Sheriff's Office has announced that they will be opening an investigation in regards to the incident.
The videos show healthcare workers advocating for masks and protestors threatening them. On Friday, August 13, Gerald Harris from News 2 asked Lee to comment on the confrontation.
Harris asked, "Should healthcare workers be threatened while doing their job, Governor?"
However, he did not respond. This came shortly after Lee's administration released an email to dispel "conspiracy theories" surrounding the vaccine and his recent executive order.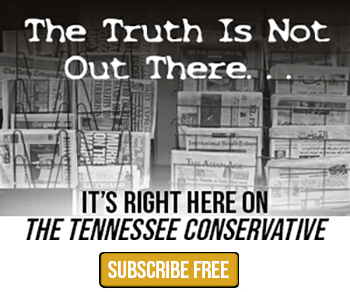 Senator Heidi Campbell from Davidson County said, "These people are out on the frontlines every single day risking their lives to save your children and to save your families."
Even though Lee's office has addressed any "misinformation", the governor did not make any public comment. 
"Governor, do you want to respond to the misinformation by some of your Republican colleagues about the vaccine?" Harris asked, but Lee did not answer.
News 2 also asked for a comment on the infrastructure plan that passed the U.S. Senate.
Casey Black, a spokesperson for Lee's office, responded to say, "A federal proposal hasn't passed Congress, but broadband has been a cornerstone of the Governor's agenda. As you know, broadband was a key highlight in his State of the State address this year, and it is regularly discussed during FSAG meetings. Additionally, the state's FY21-22 budget included significant investments in rural broadband development."
Last week, Tennessee House Speaker Cameron Sexton issued a letter to request Lee hold a special session in order to address the "misdirected and mandated responses to COVID-19 by local entities and officials." The letter had over seventy signatures from other state lawmakers. 
"The six independent health boards, along with unelected officials, have made and will continue to make decisions that stifle access to educational opportunities for our children and infringe on their freedoms and liberty," Sexton's request reads. "Some of these mandates have been accompanied by threats of reckless endangerment, school closure, and segregating students based on vaccination status." 
Yesterday, August 16th, 2021, Governor Lee signed Executive Order 84 to make it mandatory for all school districts in Tennessee to give parents the option to opt their children out of mask requirements imposed by schools or health boards.