Hamilton County Schools Shift to 4 Day Per Week In-Person Learning For Grades K-8
Published February 4, 2021 
Hamilton County, TN – Last week, Hamilton County Schools stated that if the district remains in Phase 2 for the week of February 8th, grades 6-8 will be added to the four days per week in-person Phase 2 schedule going forward, based on the guidance of medical professionals.  
On Tuesday, HCS made good on their promise and starting next week (February 8 – 12), grades 6 through 8 will be added to the updated Phase 2 schedule that now includes grades K through 8 attending school in-person for four days a week. 

As of February 3rd, the Phase Tracker data shows that Active COVID-19 cases have again trended downward to 1,814 active cases or 0.49%.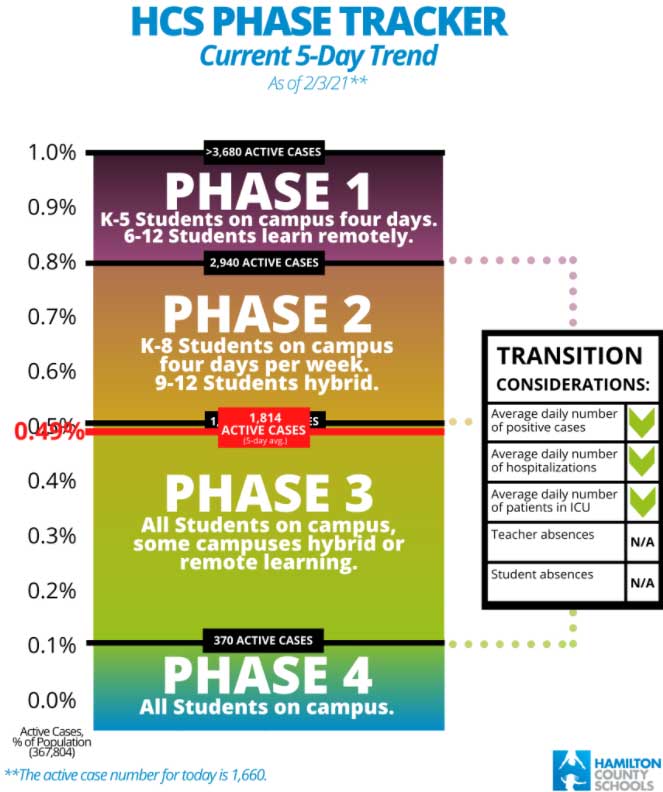 This is down from the January 26th number of 2,684 active cases or 0.73%.  
With the new inclusion of grades 6 through 8 in the K-5 bracket, the Phase 2 Schedule is updated as follows: 
• K-8 Students are on Campus Four Days Per Week, Wednesday will be the remote learning day.
• Grades 9-12 Students are to follow a A/B Hybrid Learning Schedule and attend school in-person two days a week.
• HCS at Home students will continue to follow a full-time remote learning schedule.
According to HCS, the district expects to return to five days a week for grades K-5 as soon as the week of February 15th, given the current COVID trends and data.
A spokesperson from HCS stated, "We will continue to heed the advice of medical doctors, seek input from the reopening task force, and monitor public health data as we work to return to five days a week on campus learning for all grade levels." 

On January 29th, Hamilton County Schools COVID Response Lead, Jennifer Bronson stated that. "Schools can safely open and operate without significantly contributing to the spread of COVID-19 in our community.  They can operate even when the spread in the community is high." 
However, it seems the officials at Hamilton County Schools have chosen to slowly build back the in-person student population.
Hamilton County Schools will be in compliance with Governor Lee's request for all Tennessee schools to have in-person learning options by February 15th, but only time will tell when we will see a return to schools for the entire student population. 
The district will officially announce the phase for the week of February 15th next Tuesday, February 9th.