Tennessee's Lawmakers Celebrate Permitless Carry As It Becomes Law
Photo: Governor Bill Lee Signs Permitless Carry Bill Into Law At Beretta USA Tennessee Campus in Gallatin, TN
Photo Credit: Gov. Bill Lee / Facebook
Published June 4, 2021
The Tennessee Conservative Staff –
On Wednesday, June 2, Tennessee Governor Bill Lee signed permitless carry into law. The signing took place in Gallatin at Beretta, a firearm manufacturer.
The law, also called constitutional carry, would make it legal for Tennesseans 21 and over to carry an open or concealed handgun without needing a permit. Military members only have to be 18 or older. The law also increased the punishments for crimes related to firearms.

Governor Lee made the law a priority during the last year. While several groups across the state have voiced criticism, numerous lawmakers have shown their support.
The legislation was officially signed in April.
During the signing ceremony on Wednesday, Lee said, "Today is a day that signals a win for law-abiding citizens in Tennessee. It also signals a win for preserving the second amendment in our state. Starting July 1st, law-abiding citizens from Tennessee will be able to carry a handgun in our state without unnecessary permission from the government."
*** Click Here to Support Conservative Journalism in Tennessee. We can't cover stories about the Second Amendment in Tennessee without your support!***
Under the new law, theft of a firearm becomes a felony instead of a misdemeanor, with a minimum of six months in jail.
"The right to bear arms it's just as important today as it was 230 years ago. With today's signing, Tennessee becomes the 19th state in the country to have Constitutional Carry as a part of its law," Lee said.
Lee was joined at the ceremonially signing by House Majority Leader Representative William Lamberth, Senator Jack Johnson, Lieutenant Governor Randy McNalley, and the USA President and CEO of Beretta, Francesco Valente.
"I want to make it crystal clear, this is a Second Amendment bill. It is a constitutional carry bill," McNalley said.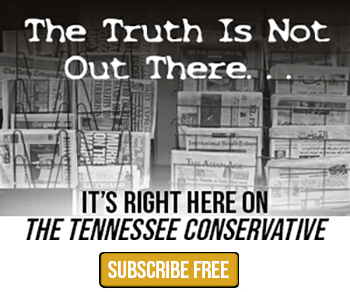 However, the law has been criticized by some gun violence prevention organizations.
A volunteer for the Tennessee chapter of Moms Demand Action, Jessie McKinney, said, "I'm really disappointed in Governor Lee and our elected representatives with signing this bill into law. I'm disappointed in the way they dismissed valid concerns from Tennesseans about this law, and I'm disappointed that they chose not to listen to the very real concerns of multiple law-enforcement agencies as well."
Karen Camper, Memphis Representative and a retired Chief Warrant Officer with the Army, said, "Every law enforcement agency in this state felt this was a bad public policy, and I agree with them."
The Tennessee Bureau of Investigation and the Tennessee Sheriffs' Association have both spoken out against permitless carry.
A Tennessee firearms instructor, Tim Guy, said, "I think it's way overdue."
Some gun rights groups have voiced criticism about the law excluding Tennesseans between 18 and 20. Neither Lee nor McNally spoke out about wanting to lower the age.
Governor Lee took to Twitter right before the signing to say, "Proud to be at @Beretta_USA to sign our constitutional carry bill today. This legislation is a win for law-abiding Tennesseans, public safety, & #2A rights. Constitutional carry is long overdue in our state, & I'm grateful for our partners in the General Assembly."
The constitutional carry law will officially go into effect on July 1.