Knox Kids Isolated, Segregated For Refusing Masks
Photo: Children placed in an isolation room at West Valley Middle School holding up signs in protest. Photo Source: Facebook
The Tennessee Conservative [By Jason Vaughn] –
Reports are coming in that children in Knox County schools that are choosing to not wear masks are being placed into "holding areas," isolated from other children.

Photos shared on social media show children in an isolation room at West Valley Middle School, Knoxville holding signs up to the window in protest.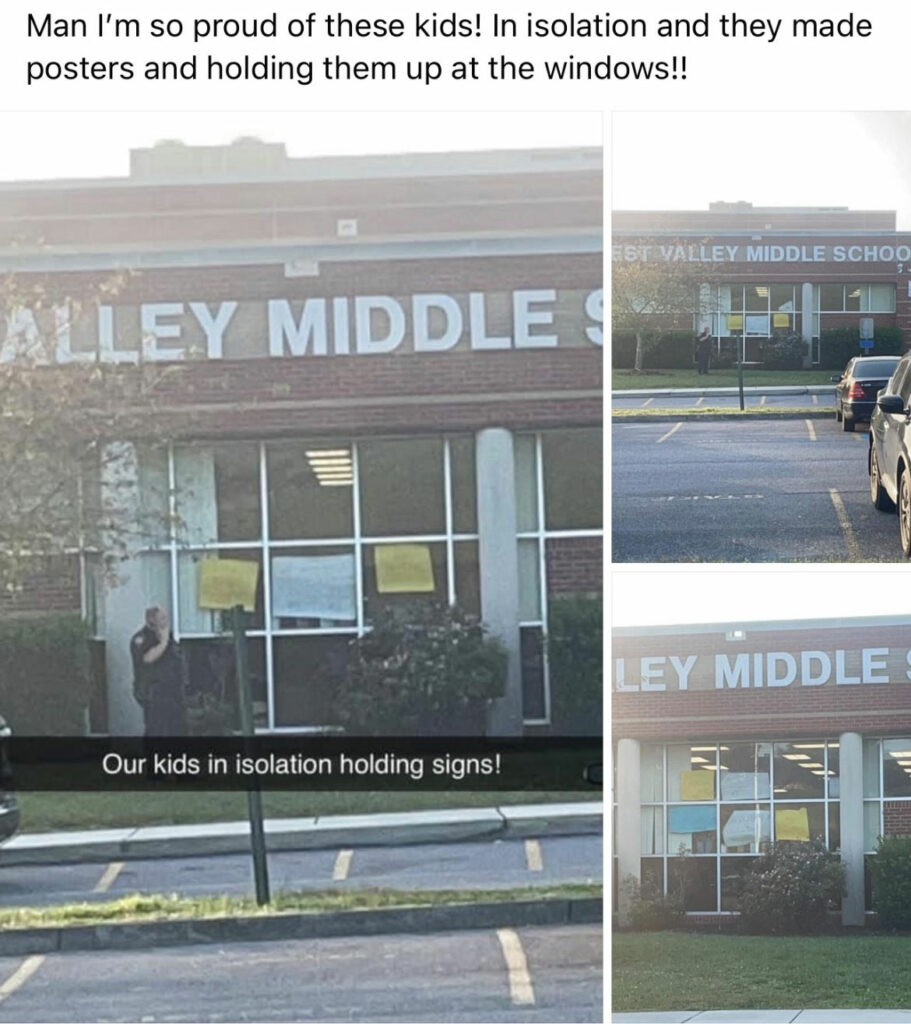 The caption reads, "Man I'm so proud of these kids! In isolation and they made posters and holding them up at the windows!!"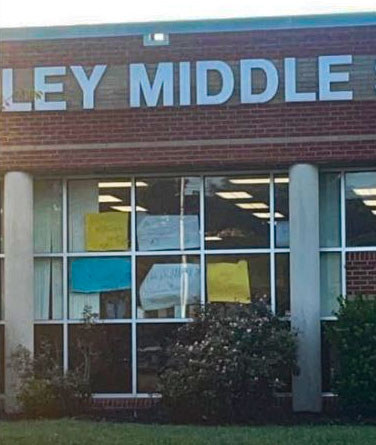 One report states, "Praying for my friends whose son was bullied by administration this morning. Said he couldn't eat til later if he didn't wear a mask… So he, being a young child who wanted to eat, put his mask on to go eat. THIS IS NOT OK!!!!!"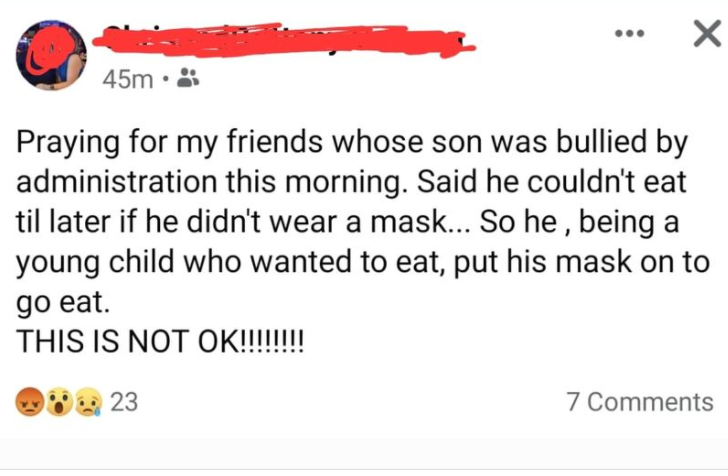 Other parents of Knox County students are sharing some of their stories on social media. One such parent states:
"My daughter attends KHS and went without a mask. She was in her first period and there was 1 other kid that didn't have one on. A few teachers started yelling at him to go to the office. When he didn't get up a few more came in the hallway yelling at him. My daughter was then terrified about what to do. How is yelling and screaming ok???!!! I am livid. She said they yelled at this kid for a while until he finally went so she put a mask on terrified they would do the same to her. I called downtown and requested to have my kids work for tomorrow. This is not ok. I think they forget there are witnesses seeing all of this. Students are terrified of this happening and I don't blame them. Not sure what else to do….."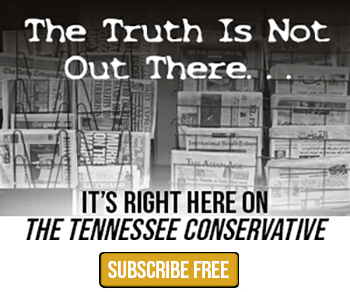 One parent has shared a letter with us that she sent to elected officials Knox County, adding "Our government has failed."
The letter reads as follows:
"It is with great sadness that we are left no choice but to pull our son (6 years old) out of Knox County schools and homeschool. I have cried more in the last 4/5 days. We moved from Illinois, and we kept our son home from school last year. It was a circus with the masks and virtual learning. It wasn't until we got here that we realized how much being in a mask and isolated from people affected him.
When you're  in it you don't see it until you step back. It breaks my heart that this has followed us here. We've had very open discussions with our son about what's going on and what the rules are at school right now. He tears up and says I don't want to wear a mask anymore. I cannot do it, part of me was relieved he was so emotional about the mask because I don't know how I would've handled dropping him off with a mask on. My husband and I also don't think the schools are a safe place for him right now.
This is in no way a reflection on his teacher, she's made this decision extremely difficult for us. But everyone has a side on this and some without even knowing it and some just not caring are taking it out in the wrong ways.
Our government and elected officials have failed the American people but most they are failing our children. YOU are destroying the spirit of a whole generation of kids and I don't understand how our government is not screaming on the capital steps. Anyone with any sort of decency, moral code and common sense knows MASKS DO NOT BELONG ON CHILDREN!! YOU are responsible for breaking their spirit, stifling their voice and robbing them of finding their identity. By doing nothing, and standing there acting like your hands are tied in political red tape makes YOU responsible for this abuse on our children. I don't know how any of you can sleep at night, but the damage being done is on all of the elected officials who are not standing for our children. All I hear is crickets."
Knox County Schools does currently has a mask mandate in place for all students, employees, and visitors of Knox County Schools.
According to their policy, "all students in kindergarten through the 12th grade, employees and visitors, shall be required to wear a mask or face covering while attending school or a school function in any school building, and when riding school-provided transportation. All masks and face coverings must cover the nose and mouth of the student, employee, and visitor."
Their policy goes on to state the consequences if students refuse to wear a mask.
In the absence of an exception, students who refuse to wear a mask or face covering inside a Knox County School facility shall have the following consequences:
Verbal Warning
2nd Offense Verbal Warning
Quarantine From General Population
Parent Pick Up – A parent/guardian may take their child home for refusing to wear a mask, but the child's absence will be counted as unexcused.
The Tennessee Conservative has reached out to school administration for confirmation or denial of whether these holding areas exist and for an explanation and/or clarification. We have not received a reply at time of publication.
Lacking a response from administration, we have issued an Open Records Request to inspect or obtain copies of public records of email communications, memos, text messaging, or internal messaging platforms regarding the decision making process and implementation of segregating and isolating students who refuse to wear masks in Knox County Schools dated 9/19/21 through 9/28/21.
Further, in the request, we seek to substantiate reports of children being forced to wear masks or not be served lunch at the standard or appropriate times, those students who were not allowed to communicate with parents regarding their forced segregation and any formal parent complaints/reports of bullying by the administration.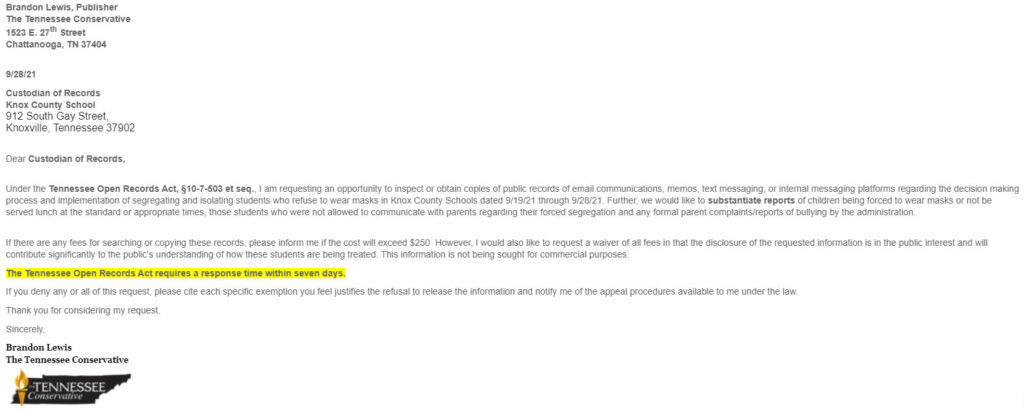 Representative Jason Zachary (R-Knoxville) has recently spoken out about mask mandates.
In a video he posted on Twitter, Zachary said, "This foolishness only stops when we make it stop."
Zachary then encouraged parents to send kids to Knox County schools without a mask.
"We have to make our stand and this is where we make our stand," Zachary said.
Zachary said in a video posted Monday that, after reflection, Tuesday would be a tense day in Knox County.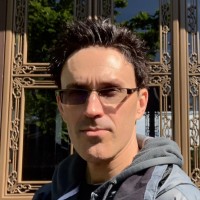 About the Author: Jason Vaughn, Media Coordinator for The Tennessee Conservative ~ Jason previously worked for a legacy publishing company based in Crossville, TN in a variety of roles through his career. Most recently, he served as Deputy Directory for their flagship publication. Prior, he was a freelance journalist writing articles that appeared in the Herald Citizen, the Crossville Chronicle and The Oracle among others. He graduated from Tennessee Technological University with a Bachelor's in English-Journalism, with minors in Broadcast Journalism and History. Contact Jason at news@TennesseeConservativeNews.com