2022 Chattanooga Budget Revealed By Mayor Kelly
Photo: Chattanooga Mayor Tim Kelly
Photo Credit: Mayor Tim Kelly / Facebook
Published August 12, 2021
The Tennessee Conservative [By Jason Vaughn] –
At the Chattanooga City Council meeting on Tuesday, August 10, Chattanooga Mayor Tim Kelly and Chief of Staff Brent Goldberg presented an outline of the goals of the 2022 City Budget to the Council. 

Kelly said, "Over the hundred and change days, we've been laying the groundwork to ensure our city is prepared to tackle the big structural challenges facing our community while making sure we get the basics right."
"As all of you know, talk is cheap, big ideas and grand plans are all well and good but it doesn't mean a thing unless it's in your budget."
"You may have heard that a budget is a moral document, which is true, but it's also a strategic compass.  Our budget points the way towards our priorities and demonstrates clearly where we are going as a city." 
Click HERE to view Kelly's FY 22 Budget Summary.
The Tennessee Conservative reached out to the Mayor's office specifically questioning whether reaching the Mayor's 2022 goals will require a tax increase for Chattanooga citizens.
The following is the statement we received from Director of Communications, Mary Beth Ikard: 
"The city is decreasing the property tax rate to one of the lowest rates in 50 years, or $2.25 per $100 of assessed value. This represents a 2.7 cent decrease from the current rate. Because of the increase in Chattanoogans' property values across the city, the city will be able to capture a portion of that increase in property value. That increase in the city's portion of property taxes will equal about $30 million for this next Fiscal Year, or an increase of 19.59% in revenue. But again, the actual tax rate is decreasing. 
 
Residents whose property values increased over the last four years will pay less as a proportion of their property value, though the total will be slightly higher. Residents whose property value stayed the same or dropped will both pay less as a proportion of their home value, and less in terms of actual dollars."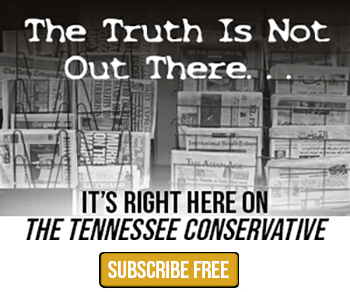 During the City Council meeting, Kelly stated that when preparing the budget, the first step his team took was to identify areas where they could trim unnecessary spending and "increase efficiency to maximize your taxpayer dollars." 
Kelly outlined a few of the budget cuts they made in the initial phase that overall resulted in a savings of $4 Million Dollars.
Some examples:
• Switching City of Chattanooga entirely to Google G Suite and cancelling Microsoft Office Licenses = savings of $120,000
• Switching City's use of external analysis of banking proposals from an outside firm to in-house = Savings of $34,000+ 
• Switching to "Common Sense Project Management" in paving = Savings of nearly a Million Dollars 
"My administration is presenting to you a budget that provides the efficient and effective government that our residents deserve but also reflects these urgent priorities that we all share," Kelly said. 
***Click HERE to support Conservative Journalism in Tennessee. We can't cover local and state government without your support!***
Some highlights of the budget include new compensation plans for police, firefighters and general employees.
The budget cuts 25 "historically vacant" positions in the Chattanooga Police Department providing for the increase in pay for police officers.
Kelly stated that "We must attract and retain top talent.  100 percent of the new dollars of this budget are dedicated to correcting these shortfalls in compensation." 
Mary Beth Ikard said, "As was seen in recent challenges with maintaining continuity of service for the city's curbside recycling program, years of low wages—ranging from 15% to 36% below the market's 50th percentile—have dried the talent pool and drained our first-responder agencies of qualified personnel. Shortages of fire and police personnel will undoubtedly lead to increased 911 response times, darkened fire stations, and declines in training. If our city does not begin offering competitive, essential pay for our essential workers, we risk further deterioration of the bedrock services on which Chattanoogans depend as employees will instead transition to the private sector, neighboring municipalities, or retire."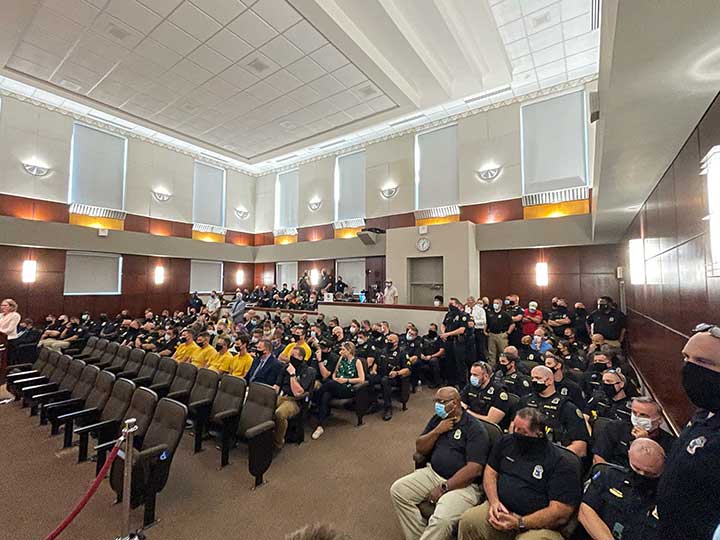 "As you can see from the photo which illustrates a full-house turnout of Chattanooga police officers at last night's (Tuesday, August 10) public-comment proceedings before City Council, the Mayor and his proposed budget are well aligned with the current, urgent priorities of first-responder agencies like Police and Fire," Ikard said.
The budget also allocates $100,000 for mental health support for first responders who have experienced increased stress during the era of COVID.
Kelly also said that the budget addresses basic city services like filling potholes, paving roads, picking up trash, etc. 
The budget will allocate $10 million for repaving roads and will appoint a full-time pothole inspector.
The mayor has also included in the budget money to implement a 'Community Forward' schools initiative that will allocate city-funded staff to seven city schools.
The budget will allocate an additional $300,000 in 2022 to expand services for the homeless and $1.2 Million has been earmarked specifically for a 'Crisis Recovery Program' that aims to provide emergency response for mental health, behavioral health and substance among the city's homeless population.
Youth and Family Development Centers are slated to be given $7 million for conversions into "true community centers."
For a PDF of the slides presented to the City Council, click HERE. 

About the Author: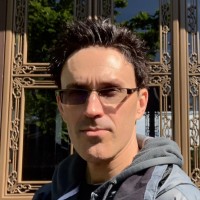 Jason Vaughn, Media Coordinator for The Tennessee Conservative
Jason previously worked for a legacy publishing company based in Crossville, TN in a variety of roles through his career.  Most recently, he served as Deputy Directory for their flagship publication. Prior, he was a freelance journalist writing articles that appeared in the Herald Citizen, the Crossville Chronicle and The Oracle among others.  He graduated from Tennessee Technological University with a Bachelor's in English-Journalism, with minors in Broadcast Journalism and History.  Contact Jason at news@TennesseeConservativeNews.com