'Dark Money' Topped $1 Billion In 2020, Largely Boosting Democrats
The 2020 Election Saw More Than $1 Billion In "Dark Money" Spending At The Federal Level, A Massive Sum Driven By An Explosion Of Secret Donations Boosting Democrats In A Historically Expensive Cycle. With This Much Secret Money, The Public Is Left In The Dark About Which Wealthy Donors May Have Gained Influence With Party Leaders, Who Dominated Negotiations Over COVID-19 Legislation And Other Priorities Over The Last Year.

March 15-21 is Sunshine Week, a national initiative celebrating open government and access to public records. Undisclosed spending by political actors undermines transparency and voters' ability to make informed decisions.
Photo Credit: Christopher Dilts / CC
Published March 18, 2021
The Center for Responsive Politics [By Anna Massoglia & Karl Evers Hillstrom] –
The 2020 election saw more than $1 billion in "dark money" spending at the federal level, a massive sum driven by an explosion of secret donations boosting Democrats in a historically expensive cycle. That's according to an estimate from OpenSecrets.
The billion-dollar sum includes a whopping $660 million in donations from opaque political nonprofits and shell companies to outside groups.
In 2020, dark money groups preferred to bankroll closely-tied super PACs rather than spend the money themselves — politically active nonprofits that do not disclose their donors reported roughly $88 million in direct election spending to the Federal Election Commission.
The remainder of the total is made up of spending on "issue ads" targeting candidates online and on the airwaves.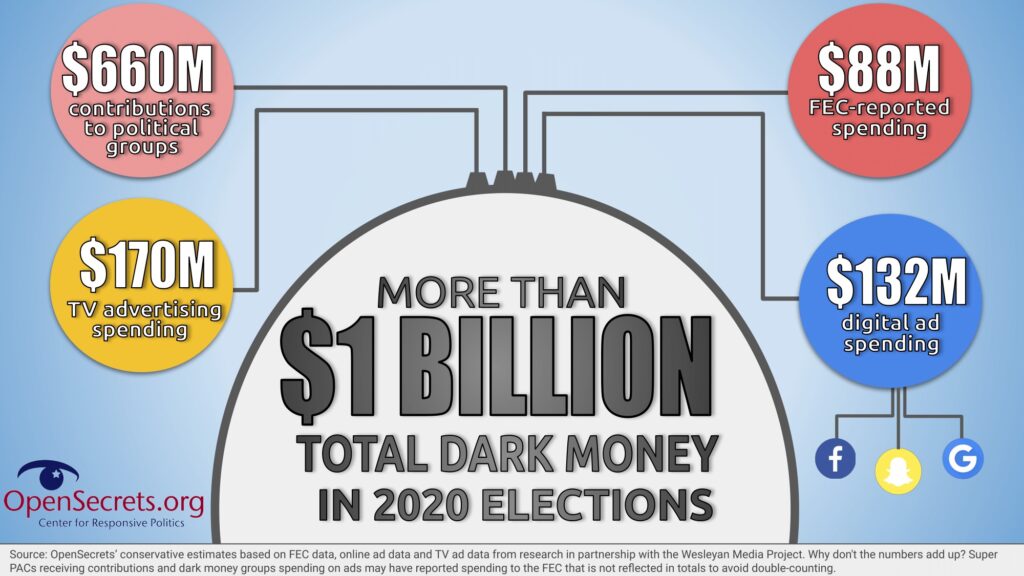 Democrats have consistently called for closing loopholes in campaign finance law that allow secret donors to bankroll pricey political ads. But that hasn't stopped them from using secret funds to win elections.
Of donations and spending reported to the FEC, liberal groups directed more than $514 million in dark money into the 2020 election, overshadowing around $200 million that boosted Republicans.
Liberal dark money groups overshadow conservatives
Anonymous donors poured record amounts of money into groups backing President Joe Biden in the 2020 contest, leaving the public without a full accounting of who helped him win the White House.
Biden's presidential bid attracted around $174 million in support from anonymous donors, more than six times the $25.2 million in dark money contributions and spending boosting President Donald Trump's unsuccessful re-election effort.
Future Forward USA, a new hybrid PAC, poured around $100 million into ads backing Biden in the presidential race and took nearly $61 million from its affiliated 501(c)(4) nonprofit in the final months of the election.
Each of the top pro-Biden super PACs, including Future Forward USA, American Bridge 21st Century, Priorities USA Action and Unite the Country, received multi-million dollar contributions from the Sixteen Thirty Fund.
The expansive secret donor network poured more than $57 million into liberal political committees at the federal level during the 2020 election cycle.
Anti-Trump 501(c)(4) nonprofit Defending Democracy Together also chipped in, spending more than $15 million opposing Trump or boosting Biden.
This marks the first presidential election cycle where dark money benefited Democrats. That's a continuation from the 2018 midterm elections when Democrats benefited from more dark money than their Republican counterparts at the federal level for the first time since Citizens United.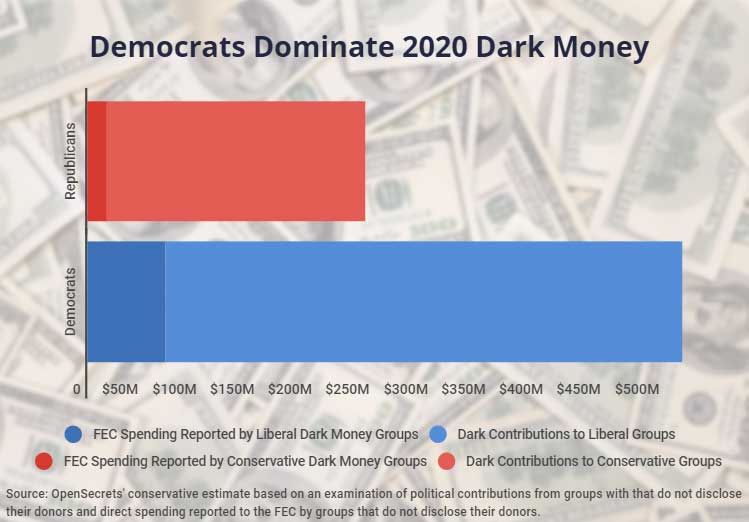 The 2020 election attracted record amounts of donations from dark money groups to political committees like super PACs. These groups are required to reveal their backers, but they can hide the true source of funding by reporting a non-disclosing nonprofit or shell company as the donor.
By using this tactic, dark money groups can get around a 2020 court ruling that attempts to require nonprofits running political ads to reveal their donors. Super PACs funded almost entirely by dark money groups spent around $38 million combined during the 2020 election cycle.
Political committees at least partially funded by contributions from untraceable sources poured a record $2 billion into 2020 elections. Groups aligned with Democratic or Republican party leadership account for around $3 in every $10 of dark money in 2020 elections.
Party-tied dark money groups directed around $320 million into ad spending and political contributions to allied super PACs.
With this much secret money, the public is left in the dark about which wealthy donors may have gained influence with party leaders, who dominated negotiations over COVID-19 legislation and other priorities over the last year.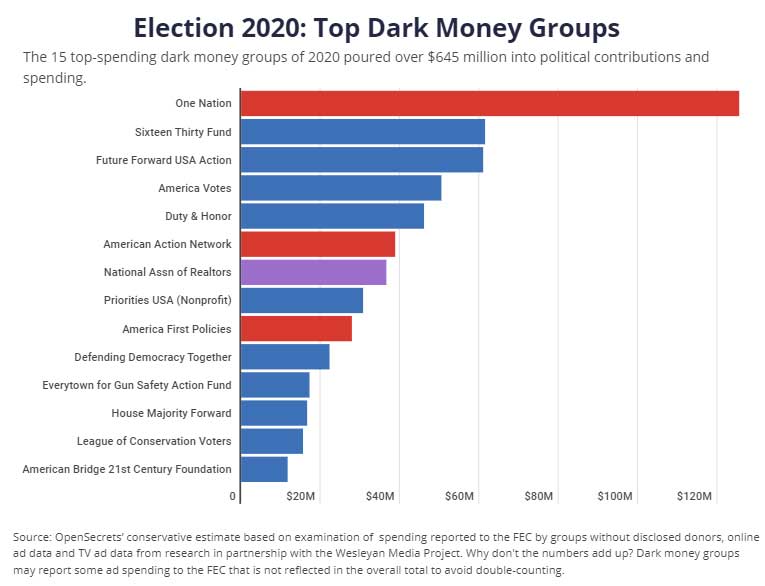 The American Action Network, Republican House leadership's 501(c)(4) nonprofit, poured over $9 million into political advertising boosting GOP congressional candidates and donated $30 million to the Congressional Leadership Fund, the House Republicans' super PAC that shared staff and resources with the American Action Network.
Senate Democrats' Majority Forward poured around $85 million into 2020 elections with tens of millions of dollars on TV ads before beginning to report its spending to the FEC when the disclosure window went into effect, according to OpenSecrets research in partnership with the Wesleyan Media Project.