Hagerty And Lee Urge Swift Action On Repairs To I-40 Bridge In Memphis
Photo: Tennessee Governor Bill Lee & U.S. Senator Bill Hagerty / Background: Hernando de Soto 'M' Bridge
Photo Credit: Background / Public Domain – Gov.Lee / tn.gov – Bill Hagerty / hagerty.senate.gov
Published May 20, 2021
The Tennessee Conservative Staff –
Following the closure of the Hernando de Soto 'M' Bridge due to a significant fracture on May 11th, U.S. Senator Bill Hagerty and Tennessee Governor Bill Lee are urging federal involvement in reopening the bridge and maintaining infrastructure. 

Yesterday, Lee traveled to Memphis to assess progress on the Hernando de Soto bridge repair and met with Arkansas Governor Asa Hutchinson to address the need for immediate federal action on infrastructure.
"We are making swift progress on repairs to the Hernando de Soto bridge to ensure safety and a return to uninterrupted commerce.  While Congress ponders the definition of infrastructure, we call upon the federal government to prioritize the safety of actual roads and bridges," said Lee. 
*** Click Here to Support Conservative Journalism in Tennessee. We can't cover News Stories such as this without your support!***
On May 15th, United States Senator Bill Hagerty sent a letter to President Joe Biden expressing frustration with his Administration's handling of the closure of the I-40 bridge in Memphis.
Hagerty also called on Biden to "convene the White House's National Economic Council immediately to ensure maximum coordination across federal agencies and that those agencies are receiving the best advice from experts outside the government."
Hagerty wrote, "This situation is affecting the lives and livelihoods of real people right now. Resolving it should not require legislation, nor should it be delayed as politicians in Washington wrangle over the definition of infrastructure. This situation demands an urgent, all-hands approach to address the public safety and economic emergency mounting at my state's western border."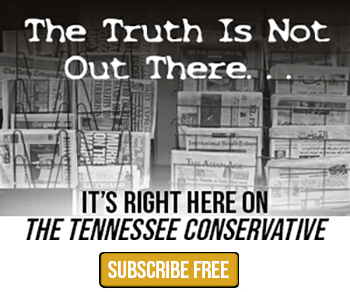 "At a minimum, I urge you to convene the National Economic Council immediately to ensure maximum coordination among federal agencies with jurisdiction over the situation, and to ensure that your Administration is seeking and receiving the best advice from relevant experts outside the United States Government," Hagerty concluded.
Biden's American Rescue Plan funds are expressly prohibited from being spent on road, highway or bridge infrastructure.
Currently, the American Rescue Plan designates $182 million to Shelby County and $161 million to the City of Memphis.
Biden's American Jobs Plan, touted as an infrastructure plan, would spend an estimated $2 trillion with a mere 5.6% dedicated to roads and bridges.
"We will continue investing in infrastructure for the safety of our citizens and the strength of our economy. I commend the State of Arkansas, the Coast Guard and the Army Corps of Engineers for their work and look forward to meaningful action out of Congress to address the condition of our roads and bridges across the country," Lee said.