Lee To Prioritize Crime Reduction, Economic Recovery in 2021
Governor Bill Lee Will Support Legislation Aimed At Reducing Crime In Tennessee And Recovering From Economic Challenges Posed By COVID-19 Pandemic During The 2021 Legislative Session.

Photo: Tennessee Gov. Bill Lee delivers his State of the State address Monday, Feb. 8, 2021, in War Memorial Auditorium,, in Nashville, Tennessee.
Photo Credit: Mark Humphrey / AP
Published March 1, 2021
By Vivian Jones [via The Center Square] –
Governor Bill Lee has outlined several bills he will support during the 2021 legislative session.
"These proposals will also position us well to continue the recovery that has already begun across our state," Lee said Thursday in a statement.
Among Lee's priorities is Senate Bill 775, which would allow small businesses who received relief payments through the state's small business relief program to deduct relief payments from the state franchise and excise tax.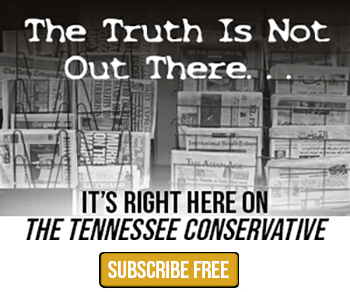 The governor also will support legislation to expand access to apprenticeship programs in Tennessee, and a bill that would create a sales tax exemption for film production in Tennessee.
Tuition reimbursement for Tennessee National Guardsmen who pursue master's programs and technical certificates has the governor's support. He also will back an effort to provide $600 payments to volunteer firefighters who complete 40 hours of in-service training.
Renewing support for a proposal known as "constitutional carry," Lee again will support a proposal to allow law-abiding citizens to carry a handgun without a permit. Lee backed a similar proposal last year, but the effort halted when the pandemic interrupted the legislative session.
Lee also announced Thursday he will support Senate Bill 1191, that would shutter the remaining Confucius Institutes on university campuses in Tennessee, responding to a recent federal move that rolled back regulations on Confucius Institutes.
"Taxpayers deserve to know who or what is involved in higher education research in Tennessee," Lee said in a video statement posted Thursday. "Tennesseans should not foot the bill for propaganda. Our proposal will also require greater transparency for any foreign investment activity on college campuses."