More Than 250 Voter Fraud Investigations Open In Georgia
Photo: Georgia Secretary of State Brad Raffensperger speaks Monday, Nov. 30, 2020, during a news conference in Atlanta.
Photo Credit: Brynn Anderson / AP
The Center Square [By Jason Schaumburg]-
As President Donald Trump continued his attack of Georgia Gov. Brian Kemp and the outcome of the presidential election in Georgia on Monday, state elections officials said more than 250 investigations of voter fraud are open.
Georgia Secretary of State Brad Raffensperger said Monday his office will continue to investigate "credible" claims of illegal voting and "violations of state election law." He said there are multiple investigations regarding absentee ballots in Fulton, Gwinnett, Cobb and other counties.
In Gwinnett County, Raffensperger said, his office is investigating a claim that absentee ballots outnumber absentee envelopes.
"This is the kind of specific charge that our office can investigate and ascertain the truth," Raffensperger, a Republican, said.
Georgia Voting System Implementation Manager Gabriel Sterling said the state can't know for certain whether the open cases could reverse the outcome of the presidential election in Georgia without completing every investigation but cautioned nothing jumps out as indicating they could.
"The Gwinnett (allegation) is very specific," Sterling said. "If there's more ballots than there are envelopes, that's obviously an issue, but we don't have an idea if that delta even exists, let alone the amount of that delta yet."

Georgia on Nov. 19 completed a hand recount and audit of the more than 5 million votes cast in the presidential election, which showed presumptive President-elect Joe Biden beat Trump by more than 12,000 votes. Kemp certified the results the next day, and Trump's legal team requested a recount  that weekend. The state started the requested recount last week.
Raffensperger and Sterling said Monday the recount is on schedule to be completed by Wednesday's midnight deadline.
"That is the great thing about our paper ballot system," Raffensperger said. "It is auditable. It is recountable and can provide voters the confidence that the outcomes are correct. Once this recount is complete, everyone in Georgia will be able to have even more confidence in the results of our elections despite the massive amounts of misinformation that is being spread by dishonest actors.
"There are those who are exploiting the emotions of many Trump supporters with fantastic claims, half-truths, misinformation and, frankly, they are misleading the president as well, apparently."
Trump has spent the past two days on Twitter and TV attacking Kemp, a fellow Republican, and calling on him Monday to "use his emergency powers, which can be easily done, to overrule his obstinate Secretary of State, and do a match of signatures on envelopes."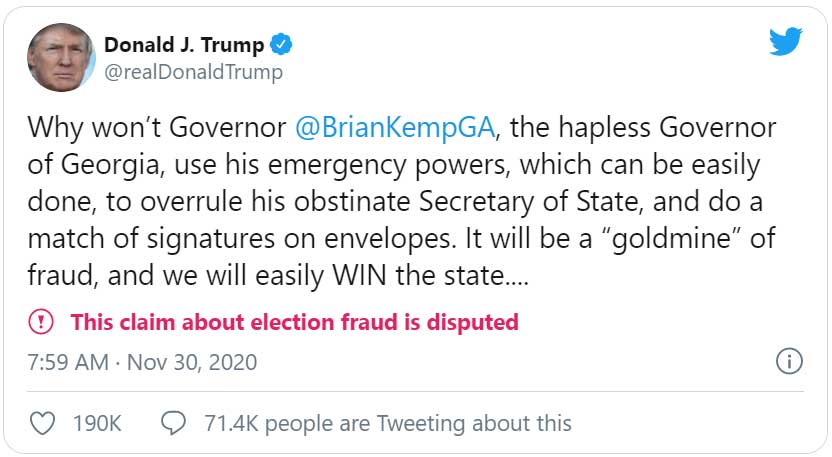 Trump told Fox News on Sunday he was "ashamed" he endorsed Kemp in his 2018 gubernatorial campaign.