After A Year Of Virtual Events, Dogwood Arts Festival Will Be Live
All Photos By Kristen Bright Photography
Published April 16, 2021
By Makenzie Jones [The Tennessee Conservative contributor] –
The annual Dogwood Arts Festival will return to in-person events for 2021 at the redesigned Performance Lawn in Knoxville's World's Fair Park on April 23-25.

There will be 75 art vendors in mixed media, painting, photography, pottery, glass, jewelry, sculpture, and more. Entertainment will also return with live music, adult and child activities, artist demonstrations, and a concessions area featuring various food vendors.
Friday and Saturday, April 23 and 24, the hours are 10 a.m. to 7 p.m., and Sunday, April 25 is 10 a.m. to 5 p.m.
The event is free to attend, but reserved tickets are required and can be found online. There are strict capacity limits and two-hour time windows on tickets as well as a period designated for elderly and immunocompromised individuals on Friday morning.
Vendors have already been chosen and were invite only this year, as there has previously been an application process.
Shannon Herron from Dogwood Arts' Marketing and Creative Department shares that "Several 'festival favorites' will be back this year, alongside almost 30 new art vendors who have never shown at the festival before.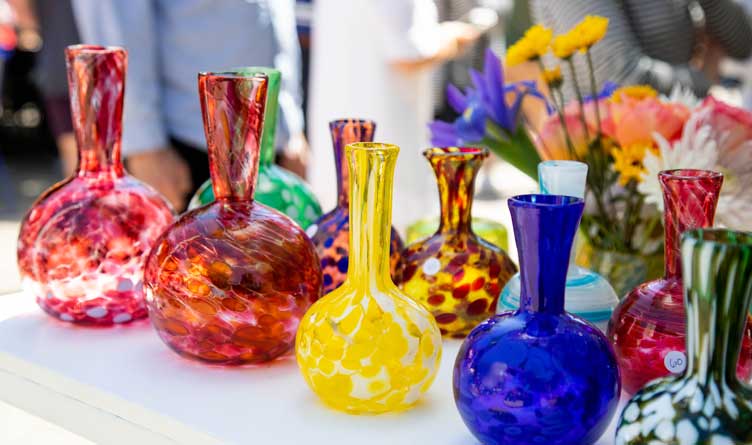 The kid's Creation Station is back––this time with take-home activities for kids instead of hands-on group activities as usual. There will be live entertainment on two stages that will focus on local and regional musical talent."
The month of April is full of many events besides the Festival, including the Dogwood Trails that are marked for the entire month. The Festival was established in 1961, but the Trails have been a tradition since 1955.
In 1947, a New York reporter came to Knoxville and reported back to NY that it was "the ugliest city [he] ever saw in America" and that the main street of Gay Street "seemed to [him] to be a misnomer." This led the Knoxville Garden Club led by Betsey Creekmore, Martha Ashe, and Betsy Goodson and some concerned citizens to begin a beautification project that became the Dogwood Trails.
The Trails cover over 85 miles in 12 neighborhoods in all areas of Knoxville. In North Knoxville the neighborhoods are North Hills, Halls/Timberline, and Fountain City; South neighborhoods are Lakemoor Hills, Chapman Highway, and Island Home; East features Holston Hills and Morningside; West showcases Sequoyah Hills, Deane Hill, Farragut, and Westmoreland. Pink lines are painted to mark the way for spectators.
Additional information, maps, photos, and off-trail sites are available on the website.
Hikes & Blooms is an event along with the Dogwood Arts that runs now through May to explore the nature of Knoxville on foot. Locations, times, registration, route details, and more are available.
Bikes & Blooms held two rides through the greenways and scenic neighborhoods on April 12. The Chalk Your Walk competition was held April 3-12, encouraging artists of all ages to create artwork on sidewalks, driveways, and community spaces and submit their creations to the Dogwood Arts website for judging. The 2020 gallery is currently posted.
A full list of events can be found online with frequent updates to keep people prepared for this year's celebrations and those for the years to come. People are also welcome to make donations and shop the online store in addition to the in-person vendors.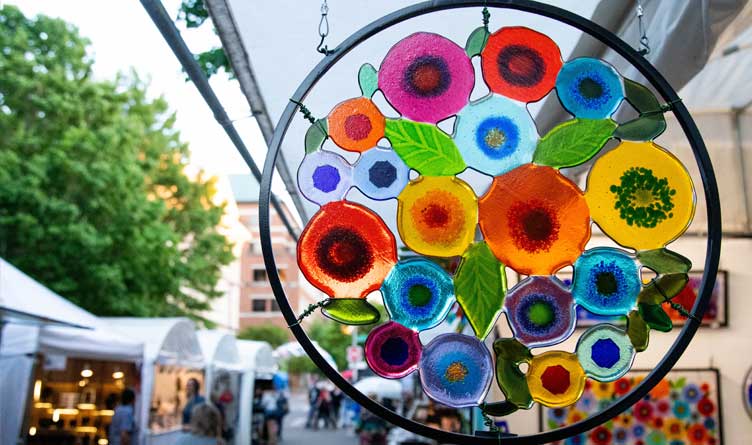 Dogwood Arts is working with the City of Knoxville and Knox County Health Department guidelines to bring the event back to life while implementing many health and safety protocols. Masks are required for attendees ages 12 and up. Hand sanitizing and washing stations and distancing ground markers will be placed throughout the park, and high-traffic areas will be regularly cleaned and sanitized.
All staff, volunteers, and vendors are required to have their temperature checked before the day's shift, and performers will stay at least 12 feet from the audience. Eating and drinking areas will be confined, and tents and tables will be separated by a minimum of six feet on all sides.
Herron adds, "The festival will undoubtedly be a different experience this year, but one thing remains constant––the level of craftsmanship and talent exhibited by our local, regional, and national art vendors."
Dogwood Arts is a 501©3 nonprofit organization with a 65-year history of advocacy, environmental stewardship, and economic impact in East Tennessee. They receive financial support from corporate sponsors, grant funding, local government investment, and private donors for their 20 year-round events. The mission is to promote and celebrate the art, culture, and natural beauty of the region.

About the Author: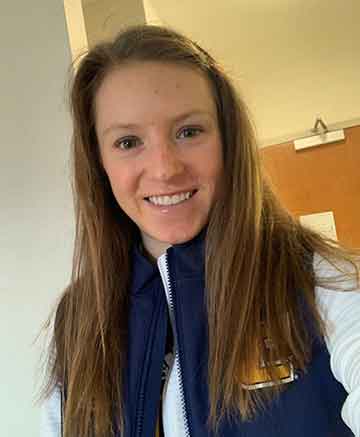 Makenzie Jones is a current MBA student at the University of Tennessee at Chattanooga and is a member of the cross country and track teams.
She earned undergraduate degrees in Communications and Sports & Outdoor Recreation. Outside of school, she enjoys scrapbooking, cooking, writing, water and snow skiing, and spending time with her family and pets in her hometown of Jefferson City, TN.