Hot & Humid With Thunderstorm Chances On The Horizon
Weather Images created by WeatherWX.com
Published July 6, 2021
By Meteorologist Mark Baldwin –
It's a hot and humid Tuesday across Tennessee! The humidity will cause those afternoon highs to feel several degrees warmer than that. That heat and humidity could lead to an isolated afternoon or evening shower or thunderstorm.
A partly cloudy and muggy night awaits us tonight. An isolated shower or storm cannot be ruled out in the early evening hours, but much of the night will just be very warm and rain-free.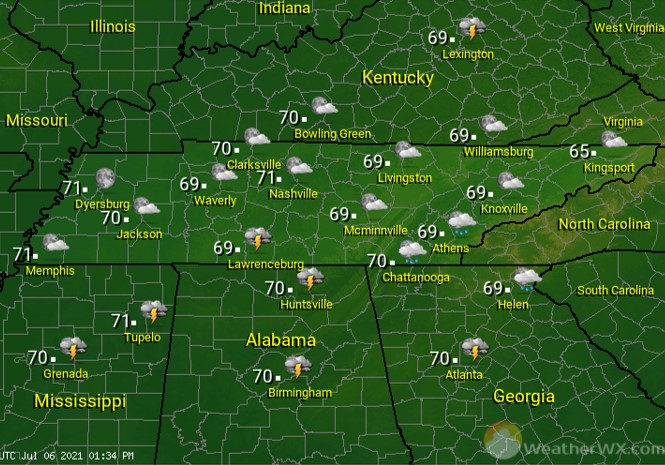 Afternoon and evening shower and thunderstorm chances increase to near 50% for Wednesday. Otherwise, skies should be partly cloudy. A few more clouds and increased rain chances will keep high temps in the mid to upper 80s. Keep in mind that any storm that develops this time of year could contain gusty winds, cloud-to-ground lightning and brief, heavy downpours.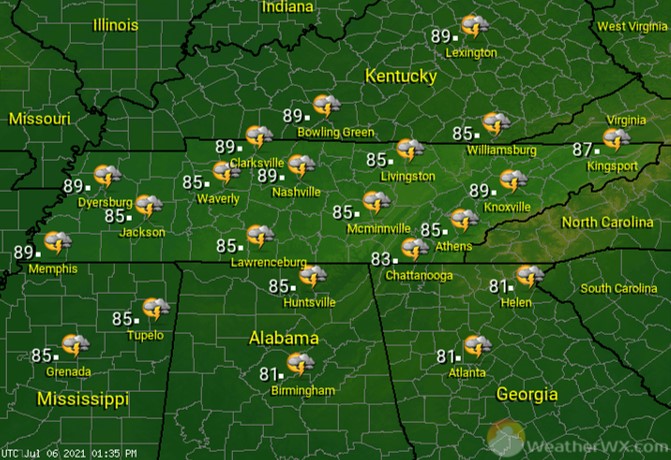 Visit Meteorologist Mark Baldwin on Twitter, Facebook and at meteorologistmark.com.