Biden Pitches Crime Plan As Urban Violence Rises
Photo Credit: Gage Skidmore / CC
Published July 13, 2021
The Center Square [By Casey Harper] –
President Joe Biden met Monday with Attorney General Merrick Garland and other law enforcement and community leaders from around the nation as a surge in violent crime continues in the nation's largest cities.

A recent report from the Law Enforcement Legal Defense Fund showed that murders increased by 25% from 2019 to 2020, one of several data points that have drawn scrutiny for the Biden administration.
"We've been at this a long time…" Biden said at Monday's meeting. "Seems like most of my career I've been dealing with this issue. While there's no one-size-fits-all approach, we know there are some things that work, and the first of those that work is stemming the flow of firearms used to commit violent crimes."
*** Click Here to Support Conservative Journalism in Tennessee. We can't bring you articles like this without your support!***
White House Press Secretary Jen Psaki also emphasized Biden's gun control measures in a news briefing Monday, pointing to "the administration's zero-tolerance policy for dealers who willfully sell guns illegally; the Department of Justice's gun trafficking strike forces; as well as previous steps the White House has announced, like cracking down on 'ghost guns,' which are increasingly used in violent crimes."
"Ghost guns" are 3D-printed firearms that are difficult to track.
The comments fall in line with Biden's recently unveiled crime plan that featured a range of proposals, including more gun control measures and community programs.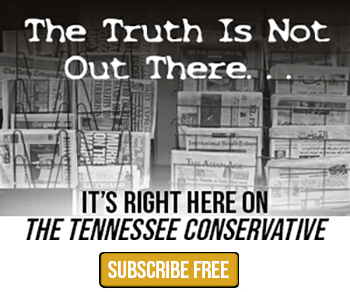 Notably, the plan called on local municipalities to use $350 billion from the $1.9 trillion COVID relief bill passed earlier this year to hire more police officers, a break from much of the "defund the police" rhetoric used by others in Biden's party.
"But what I would say to you is that the President has never supported defunding the police," Press Secretary Jen Psaki said when the plan was released. "He's always supported community policing programs. He's supported giving funding to – to states and localities around the country, including through his American Rescue Plan, because he thinks there is an essential role to play for community policing."
These comments sparked controversy among Republicans, who pointed to several instances around the nation where Democratic leaders pushed for a range of issues, from cutting funding to altogether abolishing police.
"If Biden wants to show the American people he's ready to get serious on rising crime, he will start by securing the border," U.S. Sen. Marsha Blackburn, R-Tenn., said. Illegal immigration has been on the rise since Biden took office, leading to rising crime at communities along the southern border with Mexico.
The White House's effort to push back against the defund messaging hints at the strategy heading into 2022, when Democrats face a difficult battle to hold both the House and Senate.
A recent poll from Navigator Research, a Democratic polling firm, found that Democrats are concerned about violent crime. The poll showed that 52% of Democrats consider violent crime a "major crisis." That number jumps to 70% in the Black community.
"For Democrats, Black Americans, and Asian Americans, violent crime, the pandemic, and climate change are top crises; for Republicans, violent crime, the border, and China's rise as a global superpower are top crises," Navigator said in their analysis of the poll. "Two in three Americans say there is more crime in the United States than there was a year ago, but just over a third say the same of their local community."

About the Author:

Casey Harper, The Center Square D.C. Bureau Reporter – charper@centersquare.com
Casey Harper is a Senior Reporter for the Washington, D.C. Bureau. He previously worked for The Daily Caller, The Hill, and Sinclair Broadcast Group. A graduate of Hillsdale College, Casey's work has also appeared in Fox News, Fox Business, and USA Today.