Right-To-Work Constitutional Amendment Passes Tennessee Senate A Second Time
A Proposal To Add Tennessee's Right-to-work Law To The State Constitution Came One Step Closer To Passage Monday When It Passed The State Senate For A Second Time. 

Photo: Sen. Brian Kelsey, R-Germantown, with a construction worker in Nashville, Tennessee.
Photo Credit: Senator Brian Kelsey / Facebook
Published March 9, 2021
By Vivian Jones [via The Center Square]-
Tennessee has had a right-to-work statute on the books since 1947. Last year, amid an effort by legislators in neighboring Virginia to repeal that state's right-to-work law, also passed in 1947, Sen. Brian Kelsey, R-Germantown, proposed Tennessee's right-to-work statute be added to the state constitution.
Kelsey's amendment passed both chambers for the first time last summer.
Amending Tennessee's constitution, however, requires two approvals by the state Legislature; once by simple majority and again by two-thirds majority after an election. The proposed amendment then goes to the public for a vote during the next gubernatorial election.
Kelsey's amendment, Senate Joint Resolution 2, would prohibit discrimination against workers based on their "membership in, affiliation with, resignation from, or refusal to join or affiliate with any labor union or employee organization."
Twenty-seven states, including Tennessee, have right-to-work laws. Nine states have added right-to-work statutes to their state constitution. Kelsey's amendment has gained the support of the National Federation for Independent Business, the Tennessee Chamber of Commerce and Industry and Beacon Impact, the advocacy partner of the Beacon Center.
"This protects from discrimination, both those who are union members and those who are not," Kelsey said. "In fact, back in 1947, one supporter [of the statute] stated that it would 'be of great advantage to the average member of organized labor.' "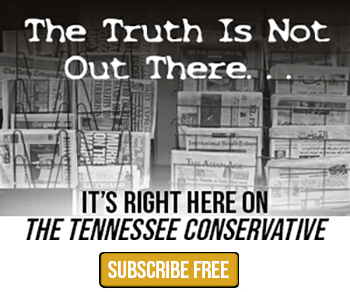 The amendment received pushback from nearly every member of the Senate Democratic Caucus.
"Right to work is a misnomer," Sen. Raumesh Akbari, D-Memphis, said during the Senate debate. "It sounds good on paper. … But instead what it really means is it's a right to work for less. A right to work in more dangerous conditions because it weakens a union's structure. It forces unions to have to cover those who are not paying dues."
Kelsey countered that a democratic-led push in the U.S. House to pass the PRO Act – a measure that would nullify right-to-work laws in all 50 states – was further cause for urgency in placing the right-to-work law into the state constitution.
"Now is the time to give Tennesseans the voice – the chance to vote on this issue," Kelsey said.
The vote to approve Monday was 23-7, largely along party lines. Chattanooga Sen. Todd Gardenhire was the only Republican to oppose the measure.
The proposal now goes to the House for consideration. If passed by the House, it would be on the ballot during the 2022 gubernatorial election.