Flights of Migrant Children Smuggled Into Chattanooga Under Cloak Of Darkness
Background Photo Credit: Wilson Air Center Chattanooga
Published May 20, 2021
The Tennessee Conservative Staff –
May 20, 2021 – Wilson Air Center In Chattanooga, Tennessee is receiving incoming flights under the cloak of darkness with planeloads of migrant children.

News Channel 3 (WRCBtv) reports that the flights are coming in in the overnight hours and that the minors will be bused from the Air Center to multiple southeastern cities.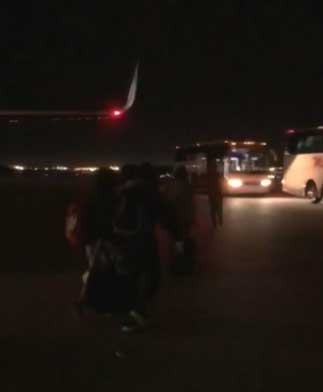 Video obtained by Channel 3 shows a group of children carrying matching bags. Those children, who look to be in their early teens, were placed on several buses that were sitting on the runway. 
Albert Waterhouse, a spokesperson for Chattanooga Airport, stated that the airport does not have any part in the coordination of the operation.
According to a Coast to Coast Tours employee, buses were sent to Chattanooga under contract from the U.S. Department of Defense. Coast to Coast Tours is based in East Point, Georgia.
The employee stated that this was the first time the company was employed to pick up migrant children in Chattanooga but they have been sent to Mobile, Alabama and Atlanta, Georgia previously.
The employee also stated that the two buses shown in the video had three or four chaperones each, as required by the company for children under the age of 18. Those chaperones are not employees of Coast-to-Coast. The children are not allowed to leave the bus at any point during the trip. She also confirmed that the buses seen were headed to Dallas, Texas, and Miami, Florida.
News Channel 3 reached out to a source that they say has direct knowledge of the operation.
The source told them that 30 to 50 children are transported with each trip. Some are relocated to group housing and others to family members that are already in the States.
The source also stated that the operation first began in Dallas, Texas but plans were altered to switch the operation to smaller airports to keep it under the radar.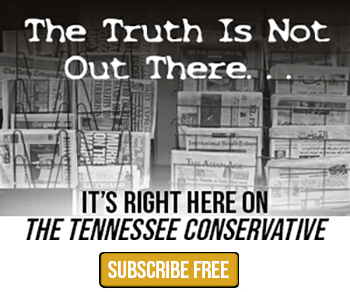 Tennessee Conservative News broke the story back in April of unaccompanied minors being housed in the old Tennessee Temple Dormitory in Chattanooga.
It is not clear how many of the recently arrived children may have been transported there as well, but sources state that at least ten boys from the new groups have been taken to that facility for housing.
It appears the facility in Chattanooga is strictly housing males.
*** Click Here to Support Conservative Journalism in Tennessee. We can't cover News Stories such as this without your support!***
While U.S. Senator Bill Hagerty (R) TN said that he had no knowledge of the flights he did recently issue this statement, "We're receiving unaccompanied minors into my state. The schools are being told they're going to have to deal with them. The hospitals are trying to figure out if they have capacity. It burdens America's children in the sense that the schools will be overloaded. It burdens our hospital system, and think about what it does to the lowest level of our economics structure here."
U.S. Senator Marsha Blackburn (R) TN has also been kept in the dark regarding knowledge of the migrant operations in Tennessess but stated that the fallout of President Biden's disastrous border policies have certainly found their way into Tennessee Communities.
"When our border isn't secure, every town is a border town. That's why I'm leading legislation to reinstate former President Trump's Migrant Protection Protocols," Blackburn said.
Governor Bill Lee has yet to address the issue on the Tennessee state-level, and Tennesseans continue to demand answers.
Maryville resident, Robert Martin states that Governor Lee will probably never answer the concerns of Tennesseans.
"He's already dug that hole, and a politician never admits a mistake," Martin says.
Jan Gidus Lane says, "This needs to stop! Tennesseans cannot afford to take care of them when we still have our own homeless citizens!"
Jeffery Hindsley says, "Tennessee, once a proud state known for whiskey, country music, Elvis and talented rednecks, now officially a 3rd World illegal migrant babysitter."
In December 2019, Lee issued a letter to Secretary of State Mike Pompeo authorizing refugee resettlement in Tennessee. This appears to be the point that the Biden administration is keying on to continue sending illegal migrants to Tennessee.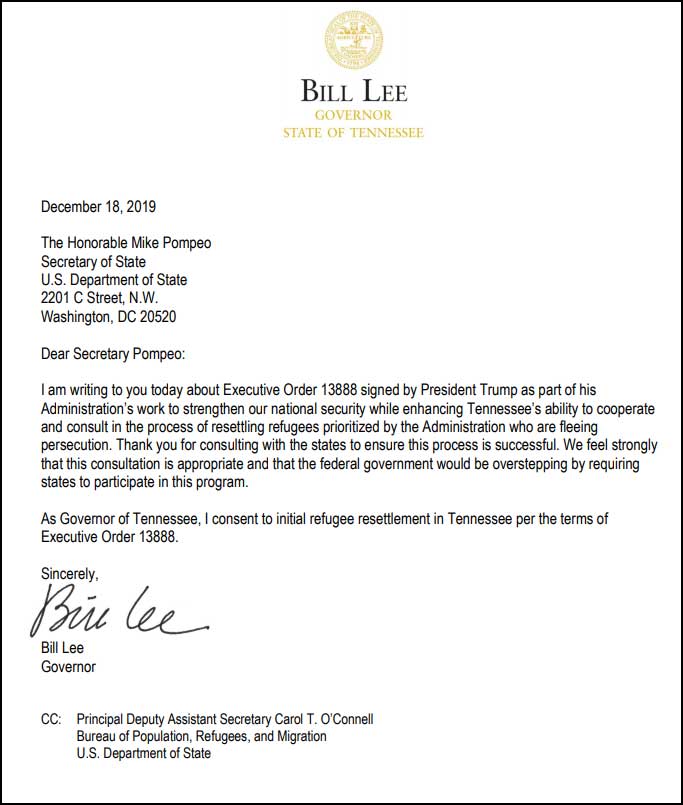 The Tennessee Conservative will continue to follow this story as it progresses.