Tennesseans Ask Gov. Lee Why He's Soft on Illegal Immigration
Photo: Brandon Lewis, Founder & Publisher of The Tennessee Conservative, visits the Migrant Detention Center in Chattanooga, TN – May 14, 2021
Published May 14, 2021
The Tennessee Conservative Staff –
In statements made by Governor Lee last year, it appears that he opened the door to Tennessee becoming a drop-off point for displaced migrant minors coming to our state via Biden's Border Crisis.

As reported by the Tennessean in December, Governor Lee chose to continue to allow 'refugees' to enter the state, making Tennessee one of only a few Republican-led states that allows 'resettlement' of this nature. 
This was, of course, when President Donald Trump was in office and the flow of migrants/refugees was a trickle as compared to the influx the country is experiencing now.
At the time, Lee's administration consented to working with President Trump to "responsibly resettle refugees," much to the chagrin of several Tennessee Republican legislators.
It would appear that the Biden administration took advantage of Lee's stance when scrambling to find adequate placement for the ever-growing number of unaccompanied migrant children, most of whom are teenage or pre-teen males. 
On Tuesday, however, Lee joined with 19 other Republican governors in a letter to Biden urging him to secure the southern border and stem the influx of migrants illegally entering the country. 
In a statement issued to the Tennessee Conservative on Wednesday, Lt. Governor Randy McNally said, "I opposed Tennessee's decision to accept refugee resettlement 18 months ago and I oppose the Biden administration's feckless immigration policy today. We need to get control of our borders and properly vet those coming into our country.  I join Governor Lee in calling for the Biden Administration to act immediately to get this situation under control." 
*** Click Here to Support Conservative Journalism in Tennessee. We can't cover News Stories such as this without your support!***
Many Tennesseans are strongly opposed to Lee's decision from last year and Biden continuing to not gain control over the border.
Barbara Goad stated, "Illegal Immigrants should not be in Tennessee. Not that they won't come here anyway, but we like Tennessee the way it is."
Gary Woody said, "Does it matter what the tax paying citizens think or want? Did anyone vote for this? Would our voices be heard?"
Christine Larsen stated that they should be allowed in only if they are being protected from human trafficking.
Cindy Melton Wright stated that, "They should ship all illegals to DC so Biden can take care of them. I support legal immigration 100% but I am 100% against taking illegal aliens."
The Tennessee Conservative reached out to the office of Tennessee Attorney General, Herbert Slatery to find out if there are any legal measures Tennessee could pursue in its current situation.
Slatery's office stated, "This is obviously a complicated and sensitive issue.  The Tennessee Attorney General's office has no original criminal jurisdiction- on any matter, including this.  We would be very limited on immigration issues because legally that is a federal matter."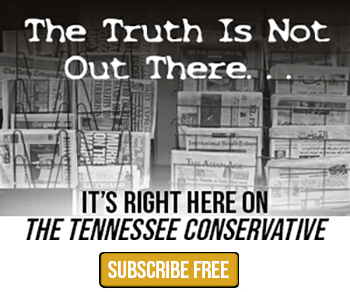 The Tennessee Conservative has also reached out to Lee on numerous occasions for an updated comment or plan of action and have received no response.
However, many of his Republican counterparts from other states have outright refused to take in the flood of migrant minors in the first place.   
Governor Pete Ricketts of Nebraska denied a request received from the Biden administration for his state to provide housing for unaccompanied migrant children, noting that his state has a responsibility to care for resident children first.
Iowa's Governor Kim Reynolds also released a statement saying that Iowa does not have the resources to deal with President Biden's problem either, stating that Iowa has enough trouble placing current foster children.
Montana's Governor Greg Gianforte, along with Attorney General Austin Knudsen, went so far as to threaten to take legal action if the President tries to transport illegal immigrants to their state.
Tennessee resident Al Hrosik says to Lee, "Stand up and grow a backbone…if you are confused as to how to do this contact Governor Abbot, Gov. Noem or Gov. Desantis."