Tennessee Serves Provides Meals For Families In Distress
Photo: First Lady Maria Lee helping to distribute food boxes at the Collinwood Help Center in Wayne County.
Photo Credit: First Lady Maria Lee / Instagram
Published June 23, 2021
The Tennessee Conservative Staff –
Tennessee Serves, an initiative led by the state's First Lady Maria Lee, has provided meals to just under two hundred thousand families in need. The initiative is in partnership with the five Feeding America affiliates in Tennessee and so far has provided 191,713 meals.

Tennessee Serves was launched in 2019 to provide help to 11 economically distressed counties. Throughout June, their focus has been on feeding the hungry.
"Food banks and their volunteer networks are crucial to a community's ability to care for those who are in need," Lee said. "We are incredibly grateful for the opportunity to aid those who work around the clock to serve their neighbors and help feed hungry families across the state."
Feeding America states that one in eight Tennesseans face hunger and one in six of those are children. The five affiliates partnered with Tennessee Serves are Second Harvest Food Bank of Middle Tennessee, Mid-South Food Bank, Chattanooga Area Food Bank, Second Harvest Food Bank of East Tennessee and Second Harvest Food Bank of Northeast Tennessee.
*** Click Here to Support Conservative Journalism in Tennessee. We can't cover stories like this without your support!***
Together, the five food banks distributed 3,994 boxes of food across the state. Each box had enough food for three meals a day for a family of four, for four days.
Nancy Keil, the president and CEO of Middle Tennessee's Second Harvest, said, "The focus on our rural counties is crucial to our work, and we are thankful for this support to provide nutritious food to our neighbors in need. We are so grateful for first lady Maria Lee's commitment to fighting hunger in Tennessee."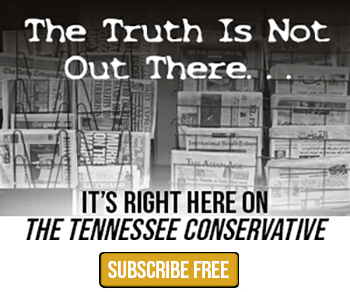 Bledsoe County Community Food Bank in Pikeville received food boxes specifically for the seniors in the community.
"The seniors loved everything in their boxes," Ginger Housley, the Bledsoe pantry director said. "The residents of these communities in the mountains don't have access to a lot of food and some of the items are considered a luxury by their families. It was a great compliment to our weekly distribution."
The food boxes helped the food banks bridge the gap in their own resources in order to provide more food to hungry Tennesseans.
Chattanooga Area Food Bank CEO and president Melissa Blevins said, "For the residents served, these boxes provided not only nutritious food, but also hope for our neighbors struggling with hunger. We are so grateful for the 600 invaluable food boxes that helped fill the gap of food insecurity in both Bledsoe and Grundy Counties."
"It takes everyone providing hope to feed people today so that we can end hunger tomorrow," Rhonda Chafin, executive director of Second Harvest Food Bank of Northeast Tennessee, said. "Second Harvest Food Bank of Northeast Tennessee and the communities we serve, especially the rural community of Sneedville in Hancock County, are grateful for the first lady's Tennessee Serves initiative and this effort to engage Tennesseans in helping one another and their communities."
Lee helped distribute boxes in Wayne County on Tuesday, June 22. She will be helping in Hardeman County on Friday, June 25, and in Hancock County on Tuesday, June 29.