TN Republican Primary Voters Overwhelmingly Support Social Media Censorship Legislation
The Tennessee Conservative [By Jason Vaughn] –
On January 13th, 2022 The Tennessee Conservative launched a Social Media Censorship survey sent to our eNewsletter subscribers and posted on all of our social media platforms.
With the rapidly approaching 2022 midterm elections and with the 2024 Presidential election on the horizon, the focus of the poll was primarily to determine if Republican primary voters are in support of our Tennessee legislators taking action to safeguard our elections from Social Media Censorship.
Social Media is an essential tool in modern-day elections for any candidate to reach potential voters as this medium has arguably become one of, if not the primary source, by which people consume information.
Even our President, Donald Trump was banned by Big Tech and it stands to reason that Conservative candidates on the state-level, or any level of state or county government could be next on the chopping block.
The survey polled participants with 5 questions having to do with Social Media Censorship, their beliefs about it and their own personal experiences.
The data collected from the survey highlights the viewpoints of Conservatives in Tennessee and will be sent to all members of committees that will be reviewing proposed Social Media legislation and to many others serving on the Tennessee General Assembly.
Question 1 asked, "Do you feel Social Media Censorship will hurt Conservative and Republican candidates in the upcoming elections?
An overwhelming 99.18% responded "Yes."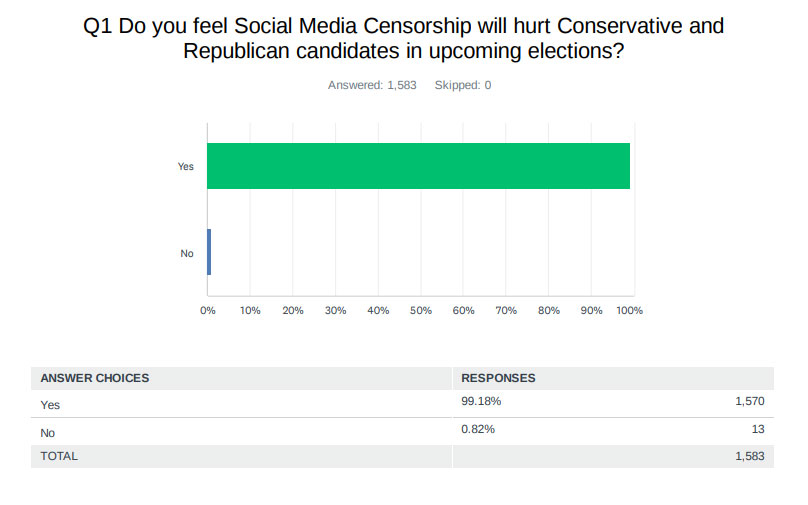 Question 2 asked, "Have you personally experienced Social Media Censorship when expressing Conservative views on election-related topics online?"
An alarming 81.68% responded "Yes."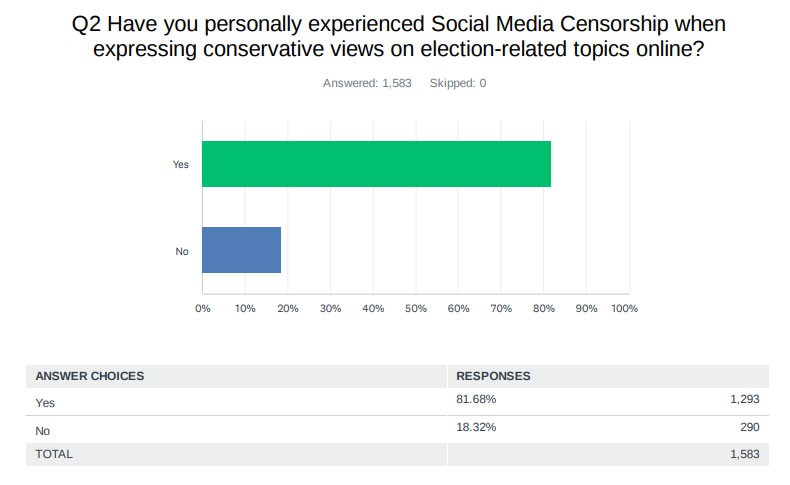 Question 3 asked, "Do you feel social media platforms should be not allowed to censor news outlets reporting on election-related stories in Tennessee?"
A resounding 98.04% responded "Yes."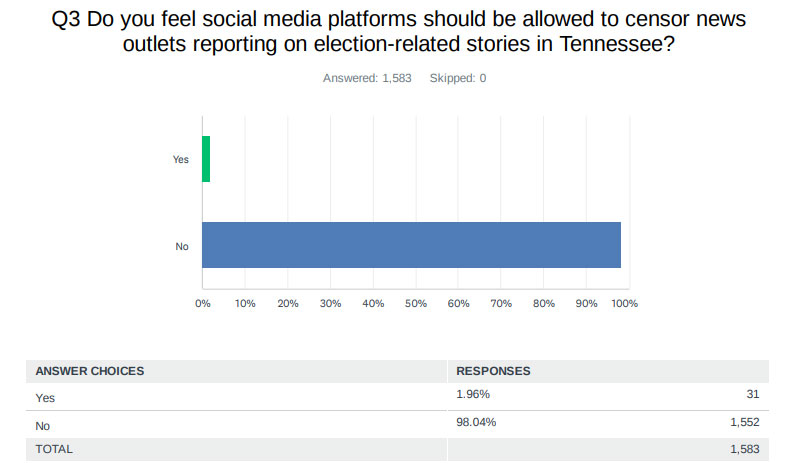 Question 4 asked, "Should the General Assembly draft, pass and enforce laws against Social Media Censorship in Tennessee?"
A decisive 98.86% said "Yes".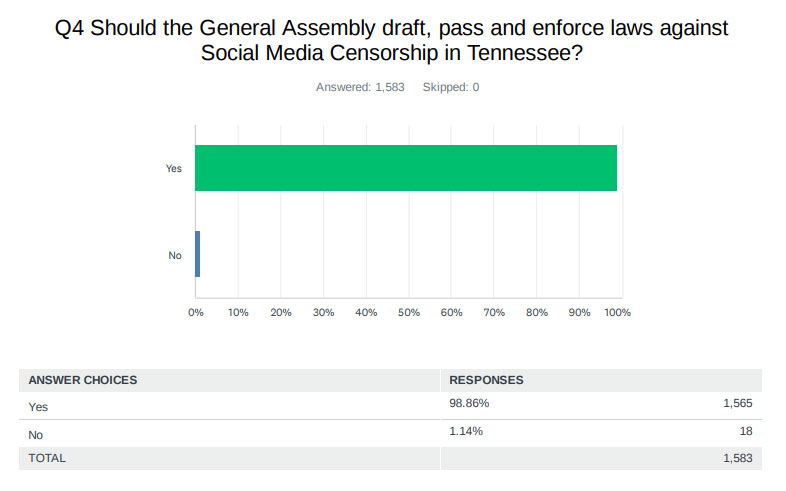 Question 5 asked, "Are you a Republican Primary Voter?"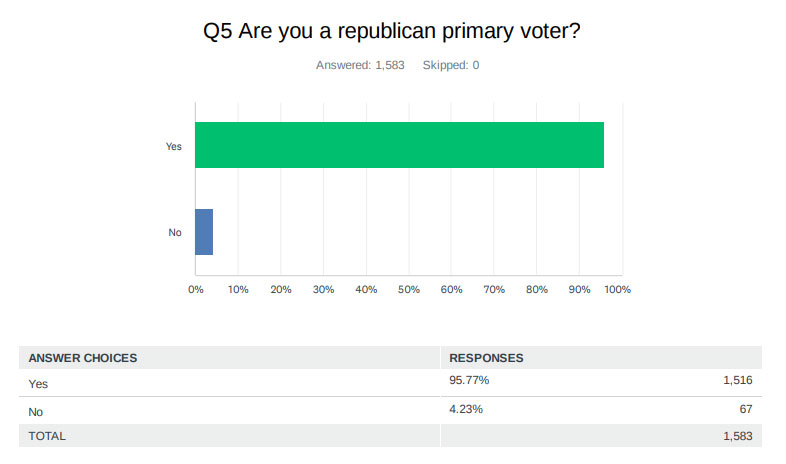 The Tennessee Conservative collected 1,583 responses. Typically, only roughly 1,000 responses are needed to get a +/- 3% variance in a statewide-poll.
The survey results clearly show that the electorate wants action on the issue of Social Media Censorship.
*Note that the sampling will lean more conservative and that Tennessee Conservative subscribers are not low-information residents.
Download the poll results HERE.
Brandon Lewis, founder of The Tennessee Conservative, states "It is our hope that Tennessee will follow Texas and Florida to pass legislation banning the censorship of free speech that interferes with elections. Since Texas and Florida social media laws have already had court challenges, Tennessee is better positioned to pass legislation that will hold up under judicial scrutiny – whether it be the initial ruling or on appeal."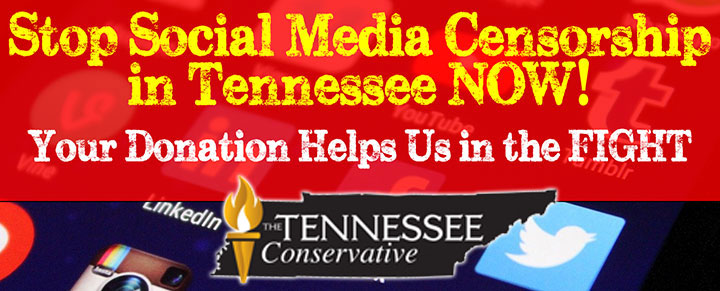 When we first posted a link to the survey on our social media channels, many Conservative Tennesseans made their opinions known in response, here are just a few of the statements:
Barbara Vantrease said, "It's long past time that we start fighting back as Americans.
Amber King shared her story of wrongful banning by Facebook.
"My Facebook profile of 14 years was disabled without warning or a reason as to why. 14 years of memories gone! It was done on the same day that Trump was banned. I created a new account and I still can't get into my old account. It still says it's disabled because I violated community standards. I have no idea which one I violated. I never was in FB jail or suspended in any kind of way before that," King wrote.
Helen Stargaze shared her story as well, "Everyday censored or silenced! I've had 3 accounts hacked by Facebook, all my religious posts deleted, and I can't tell you how many years I've been in fb jail for telling the truth!"
Brenda Massengill said, "We have to stand up for what is right!"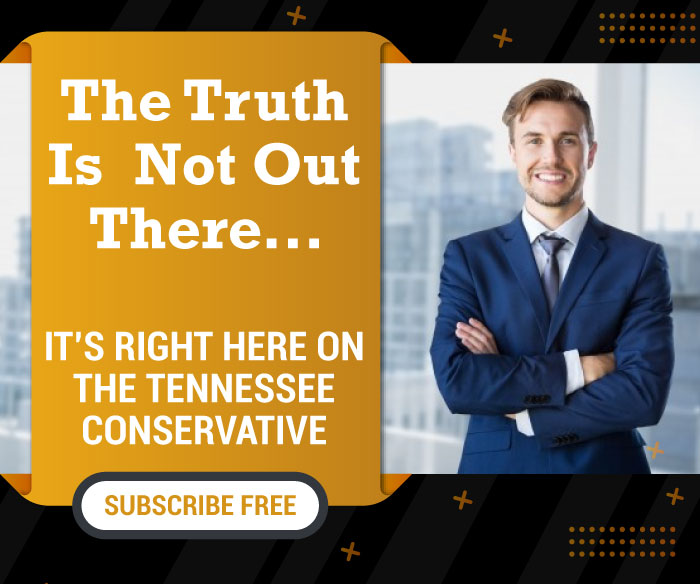 There has been some movement in the Tennessee General Assembly with Representative Dennis Powers (R-Jacksboro-District 36) taking the initiative and introducing House Bill 1771 (HB1771) with the aim of safeguarding our elections and Tennessee citizens from Social Media Censorship.
Powers' bill that seeks to designate social media platforms as common carriers and prescribe fines for deplatforming and shadow-banning users based on political ideologies, viewpoints or personal opinions.
As of the publication of this article, HB1771 has been assigned to the House Business and Utilities Subcommittee for review.
Find our in-depth article about House Bill 1771 HERE.
*** Click Here to Support Conservative Journalism in Tennessee. We can't cover stories like this without your support! ***
As with all of our articles, we posted this one on Social Media as well, which garnered comments from our audience. Here are just a few:
Dan Oakleaf said, "Pray it passes with flying colors! Election integrity (including MSM nefarious influences) must be secured and fair at all costs."
"This ought to have been done a long time ago!" said Fredia Singleton.
In regards to the fact that social media has been actively censoring Conservative free speech, Sharon Cookston Pemberton said, "They need to be stopped or shut down, glad they are working on this."
The Tennessee Conservative will continue the push to protect our Constitutional rights in Tennessee.
If you support our fight against Social Media Censorship, please consider donating HERE.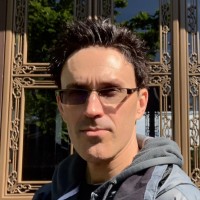 About the Author: Jason Vaughn, Media Coordinator for The Tennessee Conservative ~ Jason previously worked for a legacy publishing company based in Crossville, TN in a variety of roles through his career. Most recently, he served as Deputy Directory for their flagship publication. Prior, he was a freelance journalist writing articles that appeared in the Herald Citizen, the Crossville Chronicle and The Oracle among others. He graduated from Tennessee Technological University with a Bachelor's in English-Journalism, with minors in Broadcast Journalism and History. Contact Jason at news@TennesseeConservativeNews.com